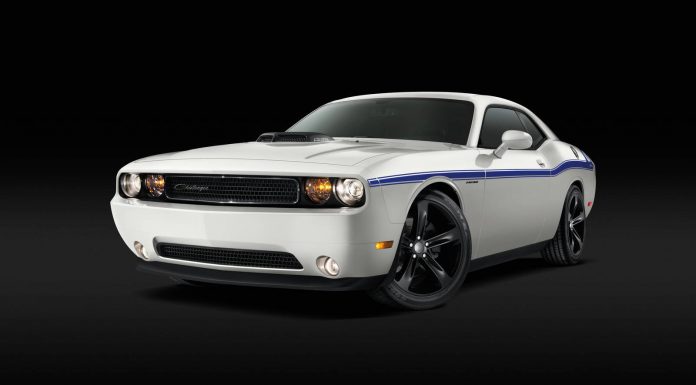 Taking the new Dodge Challenger R/T Shaker one step further, the Mopar brand revealed its new Mopar '14 Challenger. Just 100 examples will be produced making this car the rarest limited-production Challenger model announced to date, with a distinct "Moparized" look.
The rare Mopar '14 Challenger features Bright White or Gloss Black exterior paint, and in keeping with tradition to its limited-edition predecessors — the Mopar '10 Challenger, Mopar '11 Charger, Mopar '12 300 and Mopar '13 Dart — is highlighted by the 'Shaker style' stripe in 'Mopar Blue.' Furthermore adding to the customized look, two additional Mopar Blue stripe options are available, including an all-new 'rocker panel' bodyside triple stripe runs with 'MOPAR' across the doors. If this is still not sufficient for you, an all-new A-line bodyside stripe that wraps over the deck lid and includes the Mopar "Omega M" logo on the rear-quarter.
Its all-new Satin Black Shaker hood scoop stands out with its raised profile and 'Shaker' logo vibrating while the 5.7-liter HEMI V8 is churning. Other unique design elements to contrast the Bright White paint include all-new 20 x 8-inch Gloss Black aluminum wheels with very cool 'Mopar' center caps, a unique Black Vapor grille surround, Black fuel-filler door and Gloss Black deck-lid spoiler with Gloss Black 'Mopar Design' badge and "Mopar" quarter-glass decals.