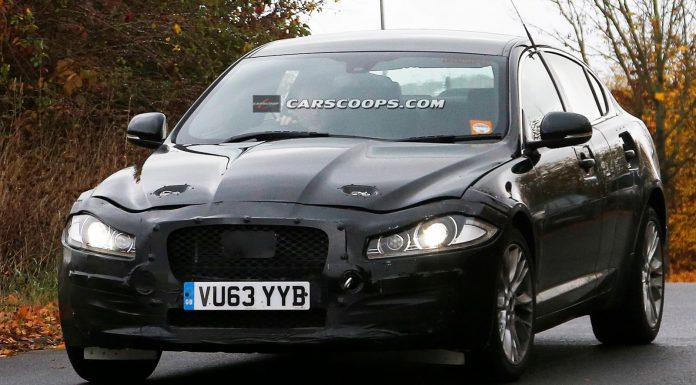 We well and truly know that Jaguar is currently working on a rival to the BMW 3-Series and Mercedes-Benz C-Class. Additionally, Jaguar is currently preparing a production-ready version of the Jaguar C-X17 Sports Crossover Concept which debuted at the IAA Frankfurt Motor Show 2013 in September. However, a mysterious Jaguar sedan prototype was recently spied testing and it is believed to be the next-generation Jaguar XF pined for a debut in late 2015 or early 2016.
Because the debut of the next-gen Jaguar XF is still so far away, it is difficult to speculate on how the car will look. However, with the Jaguar C-X17 Sports Crossover Concept clearly taking design inspiration from the Jaguar F-Type, it appears as though Jaguars styling language is slightly shifting closer to the F-Type's design. If that is the case, then expect the next-gen Jaguar XF to feature new headlights, taillights as well as new front and rear fascias.
When the C-X17 Concept debuted, it also brought along with it an all-new aluminium monocoque set to "underpin the entire innovation future of the Jaguar brand". Dubbed the IQ[AI] platform translating into "intelligent aluminium architecture", the monocoque is extremely scalable meaning it can be modified for various different Jaguar models in the coming years. Consequently, it is likely the 2016 Jaguar XF will be built from this platform.
Under the hood, the new British sedan is expected to borrow Jaguar Land Rover's range of four-cylinder engines. Additionally, V6 and V8 engines are expected in higher-specification models.
[Via Carscoops]