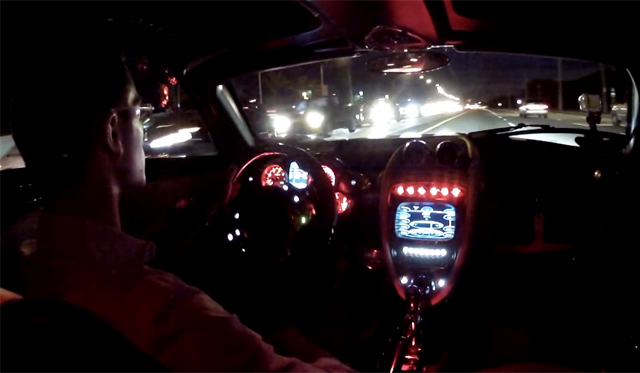 During the past couple of years, we've seen a variety of epic Pagani Huayra videos showcasing the Italian supercar being driven hard around mountain roads, or by Pagani's chief test driver around the track. However, how does the Pagani Huayra perform the everyday duty of driving on regular roads in Miami?
[youtube]http://www.youtube.com/watch?v=HnEAXnJVSBo#t=68[/youtube]
Well, the following video shows just that with a stunning red Pagani Huayra recently filmed driving around Miami at night. The on-board footage provides an excellent glimpse of the car's ride quality while also showcasing all the illuminated buttons and switches covering the interior.
As if you'd need any reminder, at the heart of the Huayra is the M158 twelve-cylinder biturbo engine sourced through AMG. This is a new unit developed together with the German engineers at Affolterbach to meet Pagani's specific needs in terms of technical specification and quality. A lot has been said about the new engine choice. Many Pagani fans wanted to see a naturally aspirated V12 in the Huayra. They wanted to retain the passion and sound of the Zonda's outgoing M120 unit. The inclusion of the biturbo system has changed the cars character dramatically. However, it's a change that has been forced through the discontinuation of the aging M120 unit.
From 6.0 liters AMG managed to extact an astonishing 720hp and 1,000Nm of maximum torque. The power is converted to the rear wheels through a transverse sequential seven-speed gearbox with a dual plate clutch in favor over a dual-clutch system which is uniquely positioned low in the center of the car to reduce centre of gravity. Alone, this saves 70kg of weight. The shifts are exactly as you would expect from a car of the Huayra's capability. They are enormously fast.