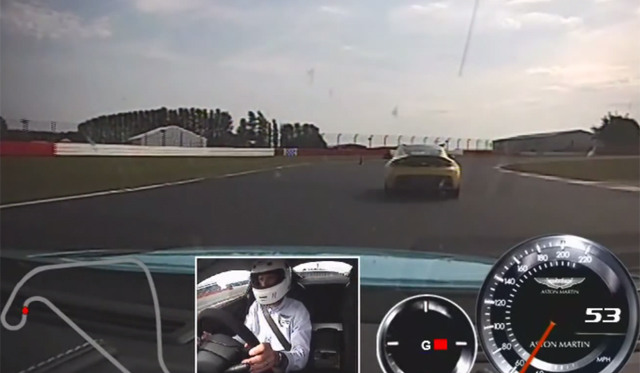 While Aston Martin's aren't known for their all-out performance and potent track times, the company's recently released 2014 Aston Martin V12 Vantage S is its most track-focused car released in the past decade. To show just how capable the car is on the track, Aston Martin has released the following on-board footage from a V12 Vantage S tackling the Silverstone short course!
[youtube]http://www.youtube.com/watch?v=Kr0wI4PWAjU#t=170[/youtube]
Powering the 2014 Aston Martin Vantage S is an uprated version of the normally-aspirated 5.9-liter V12 AM28 engine which is actually the fifth generation of Aston Martin's 5.9-liter V12 engine. In 2014 Aston Martin Vantage S guise, this powerplant delivers a total of 565hp therefore matching the power produced by the 2014 Aston Martin Vanquish from the same engine. This horsepower figure then represents a 55hp gain over the regular Aston Martin V12 Vantage.
In addition to the increased horsepower, the 2014 Aston Martin V12 Vantage now produces 457lb-ft of torque, which is a 37lb-ft gain over the regular V12 Vantage. This powerful engine is then mated to a seven-speed automated manual transmission taken from the V8 Vantage and outfitted with a longer drive ratio for higher top speeds. The transmission is operated via steering wheel mounted paddle shifters.
Unfortunately, the 2014 Aston Martin V12 Vantage S will only be available with this transmission and not the six-speed manual found in the regular V12 Vantage. Aston Martin has yet to release final performance figures for the 2014 Aston Martin V12 Vantage S but it's expected to hit 62mph in less than 4.0 seconds and a top speed of 205mph, making only the One-77 faster in a straight line.