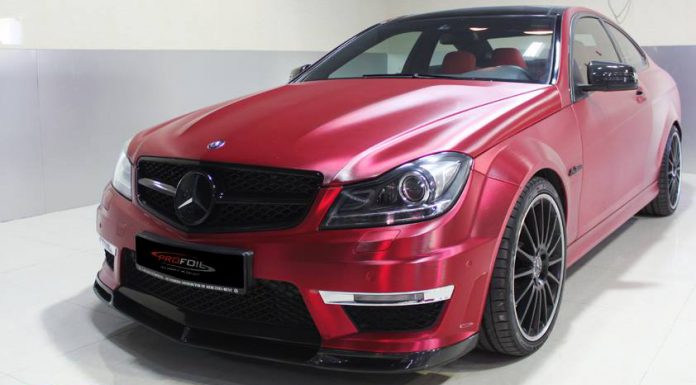 For most, the standard Mercedes-Benz C63 AMG is more than outlandish enough to attract all the attention one could ever desire. However, if you want to add a bit of a personal touch to your C63 AMG, who do you turn to?
Well, one option if you live in the Middle East is to head over to ProFoil and have one of their unique brushed chrome wraps applied. As the images show, this particular Mercedes-Benz C63 AMG has been outfitted with a unique candy apple red brushed chrome wrap. In order to make the car that much more unique, this car has been fitted with a more prominent carbon fiber rear diffuser as well as black AMG wheels.
This is the final iteration of the current C63 AMG as it is set to be replaced by the 2015 model soon. Instead of the 6.2-liter (no, it's technically not a 6.3) naturally aspirated engine of the outgoing C63 AMG, the new model is set to receive forced induction in the form of a 4.0-liter twin-turbocharged V8 engine currently codenamed the M177. This new engine could deliver up to 500hp while of course increasing fuel efficiency and decreasing carbon emissions.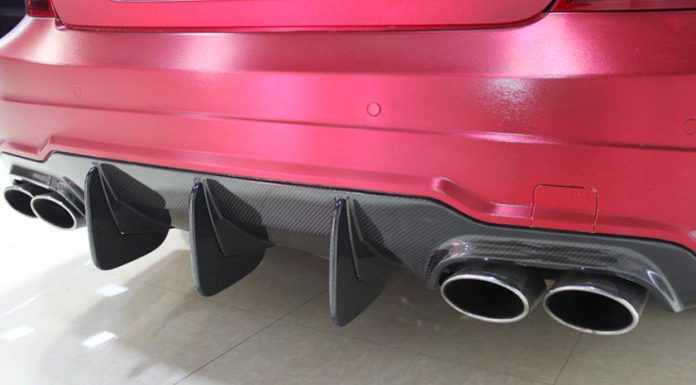 This is the same engine currently predicted to be used in the upcoming 2016 Mercedes-Benz GT and is said to share the same individual cylinder capacity, bore center spacing and other specific details with the turbocharged 2.0 liter four-cylinder used in the Mercedes A 45 AMG and Mercedes CLA 45 AMG.