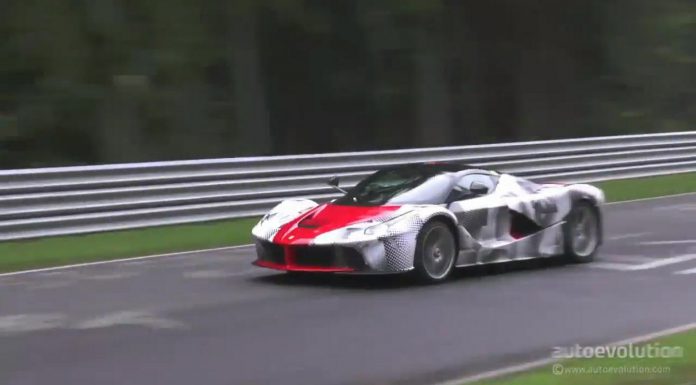 GTspirit reported on the 'LaFerrari Being Driven in Fury Around the Nurburgring' last week. New footage has caught of the same car being driven around the Nurburgring once again and if it was being driven in 'fury' last week then it is being driven even more aggressively now!
[youtube]http://youtu.be/sexVIMTPsIM[/youtube]
The test driver really seems to be giving it 110% using all the curbs and full 950hp of LaFerrari. The active aero wing can be seen working furiously and is constantly appearing to help downforce and stability. Once again the most extraordinary aspect of the video of the V12 howling and shrieking through the rev range, we experienced this wondrous V12 symphony when chasing two LaFerrari's on the auto-route! The Ferrari seems to be giving it everything to try and overthrow the Porsche 918 to win the title of the fastest lap around the Ring. Will it beat the Porsche? Only time will tell!