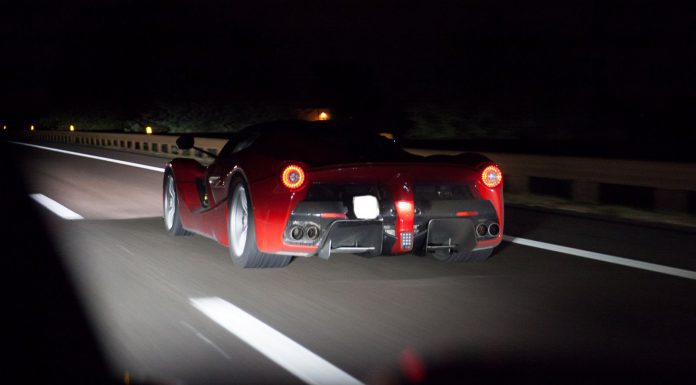 Last night the GTspirit Team was on the way back to Munich after an amazing day with the Pagani Huayra when two Ferrari LaFerraris made the day even more memorable than it already was. We first saw one LaFerrari but sadly couldn't get close because our Audi R8 V10 Plus was a few kilometers away from running out of fuel. We filled up our car with another tank of Super Plus and returned enroute to Munich.
Already surprised to have seen Ferrari's new hypercar, the LaFerrari, on the road this night we were not expecting the surprising view in our rear view mirror. From a distance the LaFerrari headlights look exactly like the 458 Italia. Excited for a little comparison with the Audi R8 V10 Plus we were even more surprised when not one, but two LaFerrari's overtook us. We immediately went in pursuit and followed them for several kilometers, the LaFerrari sounds great and it takes the Ferrari's V12 little effort to make it clearly heard over the V10.
[youtube]http://youtu.be/Cx5Xlj7H_dg[/youtube]
After a few kilometers the Ferrari test drivers clearly had enough of the tailing Audi and shift down and put their foot down. The acceleration of the LaFerrari's 960hp V12 Hybrid engine is so fierce it left our 550hp Audi as if it was standing still. In the video you can clearly see and hear the second LaFerrari fly-by us.
The LaFerraris pulled in to nearby services for a coffee break and were obviously not very keen on photos, we couldn't resist to snap a few pictures though. Ferrari is doing daily shakedown and endurance tests with the LaFerrari prior to the first customer deliveries, the two cars we encountered were endurance prototypes.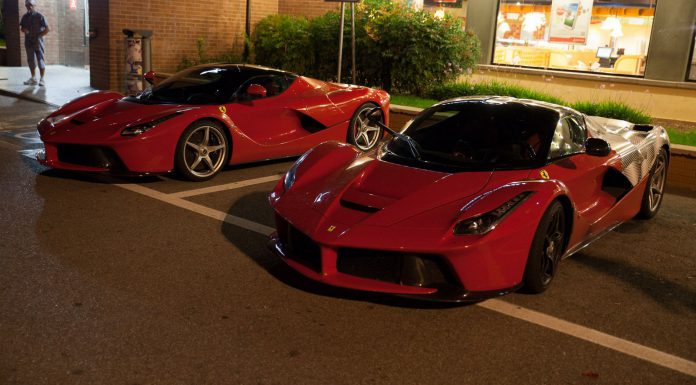 Our little encounter with the LaFerrari and upcoming market introductions of the McLaren P1 and Porsche 918 Spyder show clearer than ever that the hypercar scene will get very interesting in the next few months!