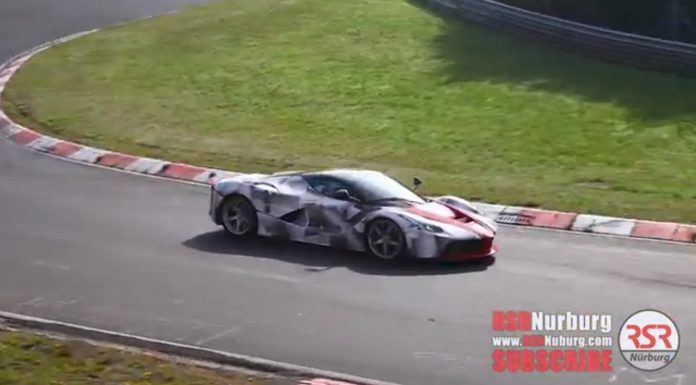 In addition to the first images of the epic Ferrari LaFerrari at the Nurburgring this morning, the first video clip has now been released. The pilot is not taking any prisoners and certainly seems to be pushing the car, taking the inside line at the extremely bumpy carousel is always the sign that a driver is giving it everything!
[youtube]http://youtu.be/8Bmgh1QlC8s[/youtube]
The active aero-dynamics are also seen in action as you can see the rear wing fully extended. One thing over everything else stands out. The noise of the beast. The V12 compete with KERS pushes out a stupendous 950hp and sounds like Formula 1 cars of old! We were lucky enough to chase two of these insane hypercars on an auto-route just a few days ago and once again the sound and drama of the shape were truly spectacular! So turn up the volume and enjoy!
The next thing to look forward to is the lap time, the Porsche 918 Spyder and McLaren P1 engineers will certainly be keeping an eye on the La Ferrari's progress!