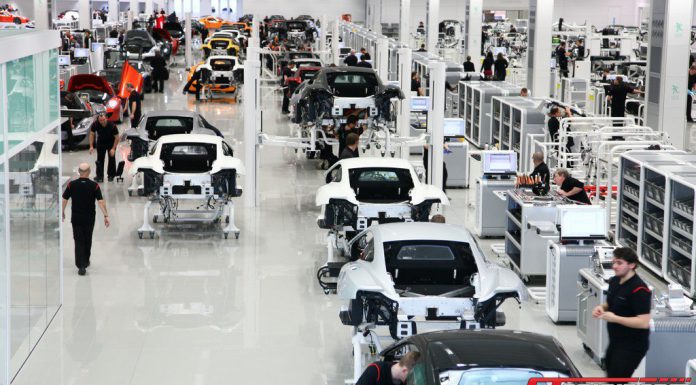 McLaren Group, the father company of McLaren Automotive, released their annual return for the 2012 year recently. The story here is that McLaren Automotive, the company that builds the road cars, looks promising going forward. Operating losses at McLaren Automotive fell to just £10.9 million last year from £59.1 million in 2011. It is hoped that by next year, this arm of the company will breakeven or even retain profit.
The regulatory filings reveal how McLaren managed to achieve this. It appears as though the company's four shareholders, Ron Dennis, the Mumtalakat fund, Luxembourg-based Tag Group and Singaporean billionaire Peter Lim each chose to convert company some of their debt to shareholdings during the 2012 financial year. This allowed McLaren to write off some of its shareholder debt.
The debt to equity trade removed around £172 million from the balance sheet. The company also issued further shares to its existing shareholders in exchange for an extra £32 million in capital. McLaren Automotive managed a turnover £266.6 million last year, up from £68.9 million. McLaren's net assets now stand in the region of £204.4 million.
Around 80% of the cars made at the group's Woking factory are exported. The majority of the companies turnover has been funded by the stunning McLaren 12C and 12C Spider. Volume production of these models hit 1,587 cars last year, up from 400 cars in 2011. McLaren's goal is to produce around 4,000 to 4,500 cars a year, short of the 7,000 car's that Ferrari produces every year.
Next year sees the McLaren P1 enter production. 350 units of the £866,000 hypercar will leave the factory. Together with the McLaren 12C and 12C Spider, there will be a lot going on at the British manufacturer during 2014. It is also thought that a less-expensive model currently known as the McLaren P13 is planned for production within the next few years. The P13 will probably get a price tag around the £120,000 – £130,000 mark.
Things are looking promising for McLaren Automotive and McLaren Group as a whole. Now they just have to focus on turning around their Formula 1 fortunes!