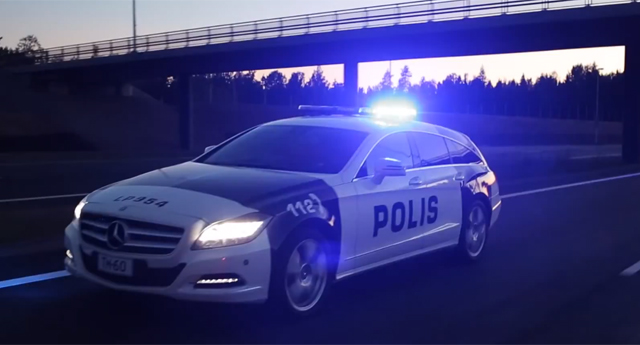 Finnish police has taken delivery of their newest police car — a brand new Mercedes-Benz CLS Shooting Brake CDI 4MATIC.
The Mercedes was a gift from Finnish magazine Tekniikan Maailma, who had polled their readers earlier in the year to see who was most deserving of a new car. After thousands of votes, TM and its readers decided that Finnish police had the greatest need for a new all-wheel drive Mercedes.
[youtube]http://www.youtube.com/watch?v=mkgkqkqFgVI[/youtube]
Dubbed the TM-60, the newest member of the Finnish police force remains relatively stock in terms of performance. The TM-60 is powered by a 3.0-liter turbodiesel V6 engine good for 262 hp and 457 lb-ft of torque. The run to 62 mph will take approximately 6.7 seconds. Top speed is electronically limited to 155 mph.
According to Tekniikan Maailma, Finland is the first police force to use the new, second-generation CLS in everyday activities. New York City continues to use a small number of first-generation CLS's in police activities.
Unfortunately the video above is not in English, but if you skip to last half you can see all the neat bits of kit they managed to squeeze into the cabin.