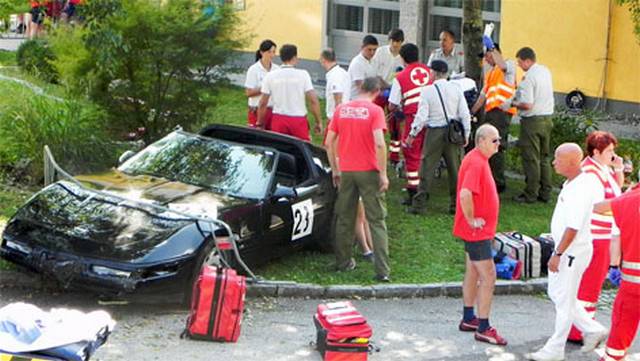 We don't need to tell you that motorsport is dangerous, its a given that driving on the limit at ten-tenths won't always go to plan. Unfortunately a few weeks ago, the 34yr old driver of this heavily damaged Corvette pushed a little to hard and driver error meant that he lost control and the photos below are the unpleasant results of the crash. The Corvette smashed through the barriers off the road circuit during a practice race and into a crowd of people. Ten spectators were unfortunately injured.
According to information from the Red Cross, six of those suffered serious injuries. As a result, three rescue helicopters were deployed. According to the ÖAMTC, all those injured were approachable and out of further danger.
Motorsport is brilliant. It's huge fun for drivers and spectators alike. However, it is important to bear in mind that there are many risks associated with racing and this is unfortunately just another example of those risks.