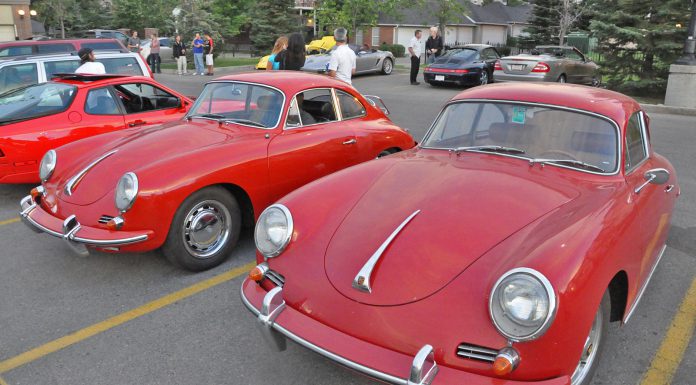 Over the summer, the Ferrari Club of America – Alberta Chapter, has hosted a weekly Euro Cars meet where supercar owners come for a weekly get together to share their stories and show off their latest modifications.
This week we saw some interesting cars show up to the meet. Most noticably, car collector Fred Phillips arrives in a red Lancia Abarth Rally 037. The mid-engine, 205hp Lancia rally car may not be a Ferrari Enzo, but its racing background and limited production numbers make it a stand-out car at any Cars & Coffee event. Phillips has owned this particular Lancia Rally 037 for about a year. He noted that the car drives like it weighs only 500 pounds, even though it weights just over four times that. IT's light and it's quick. It was nice to see Phillps show up in such a rare collector car that many might overlook when sitting next to a row of Porsche's and Ferrari's.
Another note-worthy car that showed up to the Euro Cars meet was the newly-purchased Ferrari F355 Challenge of Erik Dumas. According to Dumas, this is the only F355 challenge in the Province of Alberta and was imported from the United States. The straight-piped exhaust could be heard from blocks away.
The F355 Challenge shares the same engine performance and physical dimension specifications as the original 355 Berlinetta. 108 models were produced, all with the 6-speed transmission. Each F355 Challenge has an emblem on the rear that specifically denotes 'F355 Challenge.'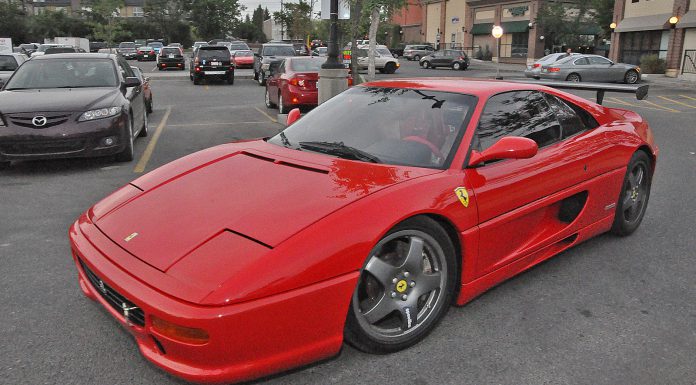 Additionally, the weekly meet saw a vintage barn find Porsche 1500 Super Coupe still in it the condition it was found in. The owner has purposefully left the exterior in its original state to preserve its history.
Also present was a newly restored yellow Ferrari Dino GT. The owner explained the crowd of curious bystanders that the interior had been sent to Texas to be redone, the exterior entirely repainted and body repaired and engine rebuilt.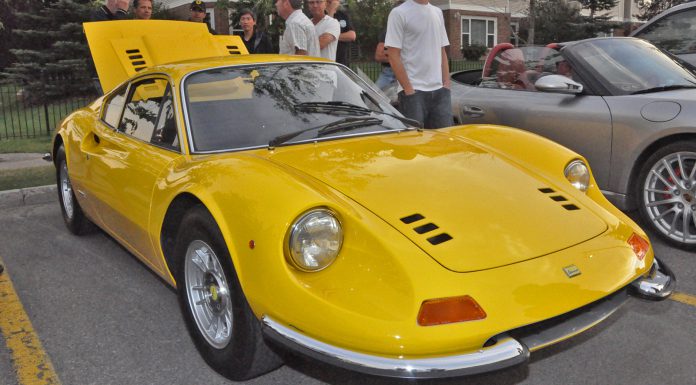 A Ferrari 308 GTS, Porsche 911's, Ferrari 360 and Porsche 944 rounded off the cars on display.
It's always interesting to see what people will bring to the weekly Euro Cars meets. A local car collector noted that next week he will be bringing a very special car that "everyone has seen before." He would not say what he would be bringing, but confirmed that he just took delivery of the car earlier in the day. He currently owns a Ferrari F50, Porsche Carerra GT, Ferrari F355, Ferrari 550 Barchetta and Porsche 911. He said of all the cars he owns, the one he just bought is the one he is most excited about. We'll find out what the special car is next week.