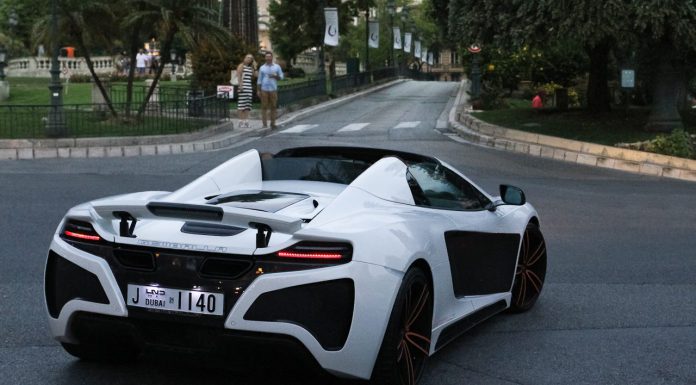 What do you do when you want a Mclaren 12C Spider but think that they are a little too common or bland? Well you send your 12C Spyder to Gemballa. GTspirit have already tested the 12C and it was one of our favorite cars of the year, and the Spider adds another dimension to the driving experience allowing the driver and passenger to appreciate the tremendous sound produced by the 12Cs twin-turbo 3.8 liter V8 engine developing 608 horsepower.
Much like the Gembella 12C GT Coupe that GTspirit recently drove (photos in the gallery below), Gemballa takes the standard car produced by McLaren and allows customers a range of individualization options including a carbon fiber aerodynamics package that includes a new front and rear and sideskirts. New Gemballa tailpipes are also part of the package and on the inside dials in the color of your choice and leather / alcantara in any color combination you could ever want.
Bespoke GForged One ultra-light forged alloy wheels in sizes 20 inch at the front and 21 inch at the rear are fitted to the car, wrapped in Michelin Pilot Super Sport 245/30ZR20 at the front and 305/25ZR21 at the rear. These have an identical unsprung weight as the original wheels.
The Gemballa 12C GT Spider offers owners the opportunity to personalize and customize the already phenomenal 12C Spider to make it stand out from the crowd!
This photo was taken by Raphael Belly Photography on a summers evening in Monaco, a place where being different means a lot!
Gembella 12C GT Coupe Driven by GT Spirit