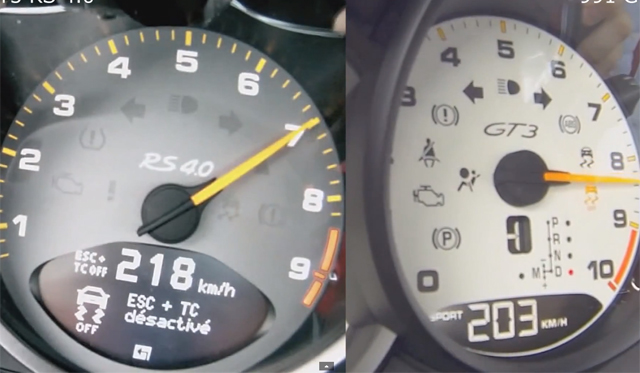 Just how well does the 2014 Porsche 911 GT3 compete against the Porsche 997 911 GT3 RS 4.0? Well, the following video shows just how well as the two cars line-up for an epic sprint from 0-200km/h!
[youtube]http://www.youtube.com/watch?v=i3pSghtKXsI[/youtube]
As the header image shows, the runs were filmed looking at the speedometer and rev-counter. This makes it easy to compare the performance of the two cars. Off the line, the 2014 Porsche 911 GT3 has the advantage thanks to its reworked launch control and brutal PDK transmission. In fact, the 991 GT3 edges out the GT3 RS 4.0 to 100km/h.
However, the Porsche 997 911 GT3 RS 4.0 begins to really pull away from third gear onwards eventually reaching 204km/h when the regular GT3 is 'only' at 191km/h.
While the new car may have lost this round, it's amazing to think that the new GT3 is so close to the previous range-topping GT3. Just imagine how fast the 991 GT3 RS and 991 GT3 RS 4.0 will be!