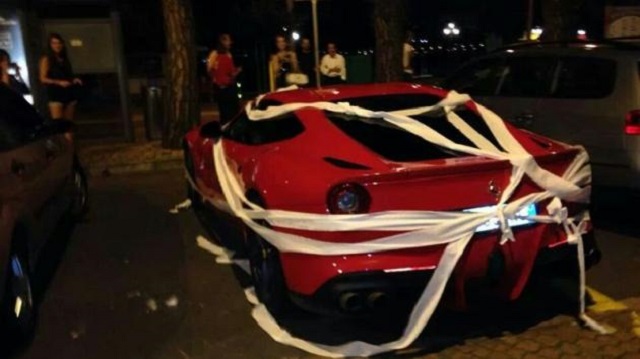 Mario Balotelli may have a reputation as being a bit of a prankster himself, yet our report today sees Balotelli fall victim to a prank himself! It seems that when Balotelli left his brand new Ferrari F12 Berlinetta parked in Lugano's Piazza Rezzonico, fans who were denied an autograph decided on payback in the form of an old fashioned toilet paper prank.
The superstar footballer apparently left his supercar parked in a no-parking zone, eager to escape fans and paparazzi. He had scored two goals for his current club AC Milan earlier in the day when they beat Serie D side Derthona 11-0 at the Milanello training ground.
We suspect that when Balotelli emerged, he laughed at the scene before making a sharp exit from the scene.