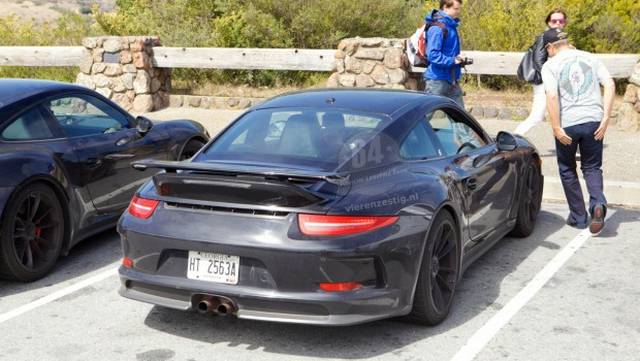 The upcoming 2014 Porsche 991 911 GT2 was recently spotted testing completely undisguised in San Francisco recently, alongside the 2014 Porsche 911 GT3 RS.
Differentiating the following 2014 Porsche 911 GT2 prototype from the recently revealed 2014 Porsche 911 GT3 are wider front and rear wheel arches as well as large air intakes. The production-ready 2014 Porsche 911 GT2 is then also expected to receive a different rear wing.
The 2014 Porsche 911 GT2 is then set to debut at the Geneva Motor Show 2014 with the same twin-turbo 3.8-liter flat-six engine as the 2014 Porsche 911 Turbo S. Consequently, the 2014 Porsche 911 GT2 is expected to pump out an identical 552hp while also utilising the Turbo's dual-clutch automatic transmission.
However, in traditional Porsche 911 GT2 style, the 2014-specification GT2 will be much more track focused than the 2014 Porsche 911 Turbo S and will feature rear-wheel drive. Additionally, the car will then feature more aggressive body work while also borrowing the four-wheel steering system of the 2014 Porsche 911 Turbo S.
On the other hand, the 2014 Porsche 911 GT3 RS is set to arrive at dealerships in the United States as early as late 2014. A debut of the car will be held well before that at an as yet undecided auto show.
Power is rumored to come from either a 4.0-liter flat-six or a beefier version of the 3.8-liter engine currently available in the GT3. Overall horsepower figures should be near 500 hp, with current reports pinning the number at somewhere around 475 hp.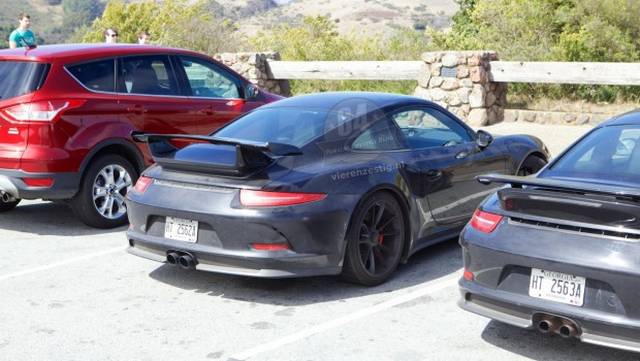 The most unfortunate news for Porsche purists is the lack of a manual gearbox. Automobile reports the new 911 GT3 RS will solely use Porsche's PDK gearbox. And as with all RS 911s, expect a sportier suspension and exhaust with the possibility of an adjustable carbon fiber rear wing.
[Via: vierenzestig.nl]