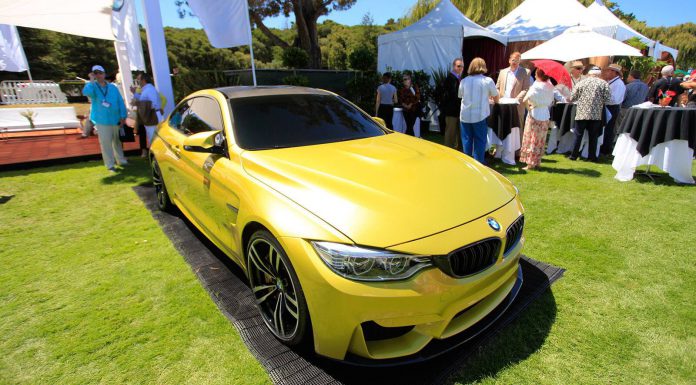 We took a look at the BMW Concept M4 Coupé at The Quail: A Motorsport Gathering yesterday in California. First off, we have to say that we like what we see. The concept shares design traits with the recently released BMW M6 Coupé, including the styling lines and the front air ducts. Yet what really shines through is the family BMW M3 lineage. The quad centre exhaust tips, the wide wheel arches, the power dome and the fender vents.
The most striking thing about the BMW Concept M4 Coupé is the unique Aurum Dust paintjob. It looks completely different in the light as against the press photos we saw before. The large air inlets at the front also provide a distinctive look. As with the outgoing BMW M3, the Concept M4 Coupé gets a range of carbon fibre reinforced plastic elements such as the front splitter, the roof and the rear diffuser.
The BMW Concept M4 Coupé will most likely feature a 450 hp power rating and 550 Nm of torque. It should be enough for a sprint from zero to 100 km/h in 4.2 seconds. Top speed will likely be limited to 250 km/h. Of course, no details have been released for the BMW Concept M4 Coupé so we'll have to wait until the production ready car hits the market.