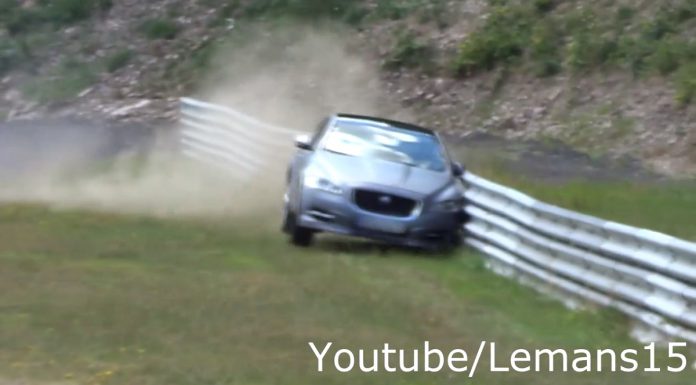 The Nordschleife is a difficult track to tackle even for the experienced. It's no surprise then that the infamous Jaguar XJ Supersport Nurburgring taxi had a little fender bender recently. Having been had a hot lap in the XJ Supersport Nurburgring Taxi myself, this is most definitely a sad sight to behold.
For those that don't know what the Jaguar XJ Supersport Nurburgring Taxi is. Jaguar introduced it to their Nurburgring facility last year in order to 'demonstrate' the potency of their standard performance XJ offering. Those that have experienced the taxi will tell you that it is actually used to rearrange the contents of your stomach (Jaguar load it up with sick bags for this precise reason).
The crash in the video above looks to have happened on Sunday this week during Touristenfahrten. It seems as though the driver got the corner slightly wrong, causing the car to skirt across the grass and kiss the armco. The car suffered a few bent body panels and a broken left front axle.
The car is fitted with a supercharged 5.0 liter V8 engine with an output of 510 horsepower and 625Nm of torque. The car is the exact same setup as you would get fitted to a standard Jaguar XJ Supersport customer car. The only differences can be found on the inside which replaces the comfortable padded seats with a set of four racing seats, each equipped with four-point harnesses, and a full bespoke roll cage.