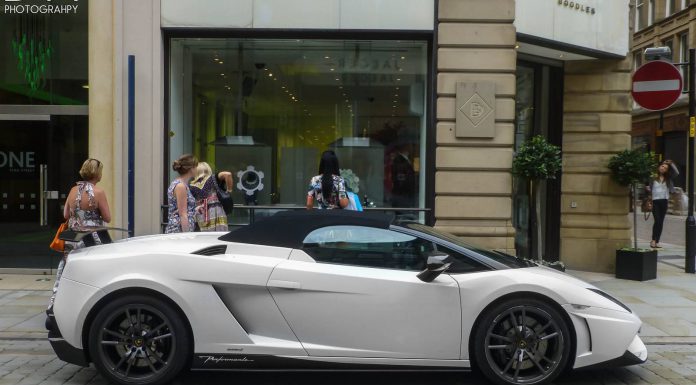 The Lamborghini Gallardo LP570-4 Performante is Lamborghini's hardcore variant of the Gallardo Spyder. Due to the fact that it is lighter than the base Lamborghini Gallardo Spyder, the car is essentially a convertible version of the Gallardo Superleggera which makes the Lamborghini Gallardo LP5704-4 Performante a real performer. Powered by a 5.2-liter V10 that produces 570bhp, 10 more horsepower than produced by the base Lamborghini Gallardo LP560-4 Spyder, the car will sprint from 0-60 mph in just 3.2 seconds. The Lamborghini Gallardo LP570-4 Performante won't stop accelerating until it hits 201mph.
Spotted in Manchester by Danny Hibbert Photography, the Lamborghini Gallardo LP570-4 Performante isn't exactly a car that that you would see on a normal basis. This special edition variant was only produced for one year during 2012 and then improved again in 2013 as a special edition known as the Lamborghini Gallardo LP570-4 Performante Edizione Tecnica.
In order to make the Performante lighter than the base Gallardo Spyder, Lamborghini added a large amount of carbon fibre to the car which contributes to 40 percent of the 140 pounds of saved weight. On the exterior, a carbon fibre spoiler was added along with carbon fibre mirrors, carbon fibre side skirts, and more. But the Italian supercar manufacturer didn't stop there. On the inside, there was a significant amount of carbon fibre added such as the fully carbon fibre door panels, E-gear transmission paddle shifters, central console cover, and other small bits.
Additionally, instead of a leather interior, Lamborghini instead decided to use lightweight alcantara seats and an alcantara covered dashboard.