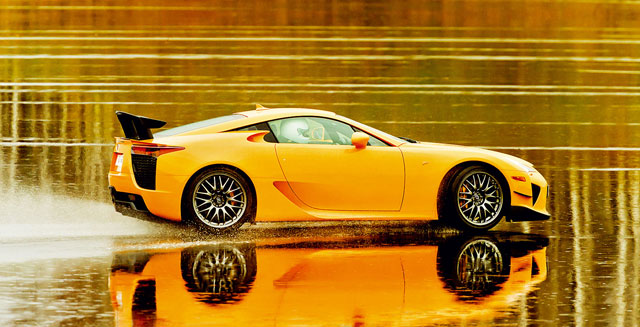 When it comes to creating each and every Lexus, one common goal is in mind. To create the very best luxury cars in Japan and sell them all around the world with mass appeal. As we know, the Lexus LFA has long been the halo supercar for the company and despite recently finishing its limited production run of just 500 units, it continues to stun with its futuristic looks and incredible performance.
The most exclusive and expensive variant of the LFA is of course the Lexus LFA Nurburgring Edition and in the following gallery courtesy of Lexus International, a Lexus LFA Nurburgring Edition is pictured testing at Lexus' Shibetsu Proving Ground in Japan.
As the following images show, the Shibetsu Proving Ground is a jaw-dropping facility with the autumn colors in the following images making them all that more epic. The grounds were opened in 1984 and incorporates five different circuits, as well as a 2.4-mile straight well and truly long enough to test out the top speed of even the Lexus LFA Nurburgring Edition. What's more, the Shibetsu Proving Ground also includes 20 different road surfaces based on different road surfaces around the world!
The Lexus LFA Nurburgring Edition is powered by an uprated version of the standard LFA's 4.8-liter V10 engine, with it now producing a total of 563hp and the car also features a selection of other mechanical and aerodynamic improvements. As a result, the Lexus LFA Nurburgring Edition can sprint around the famous Nordschleife in just 7:22.85 making it one of the fastest production cars around the Green Hell.