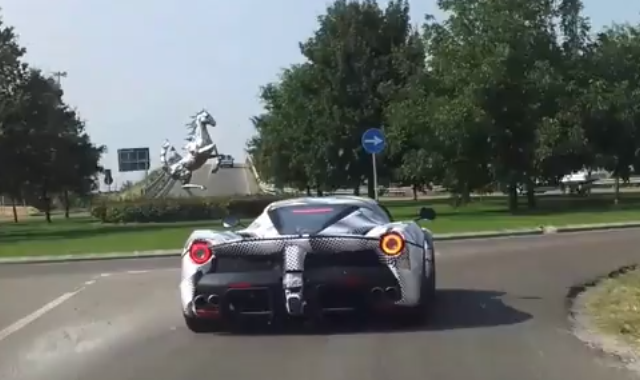 Ever since the release of the LaFerrari at the Geneva Motor Show 2013 it has been rather quiet around the new Ferrari hypercar. Until today! We received new information along with a video of one of the LaFerrari prototypes on the streets of Maranello.
Our sources state that Ferrari is still hard at work to finalize the production-spec LaFerrari. Ferrari is further developing the LaFerrari in an attempt to outpace the McLaren P1 with their final production-spec. At the moment there are three production prototypes including the car displayed at the Geneva Motor Show earlier this year. The other two are both camouflaged and used for testing at the factory terrain, Ferrari's Fiorano race track and selected roads around Maranello. Due to the ongoing developments its also still unclear when the official press test drives will be.
It is not the first Ferrari that takes a significant time from introduction to market, the F12 also took a significant time from initial introduction til the first customer deliveries. But with a Ferrari as anticipated as the LaFerrari the stakes are even higher.
Along with this new info we can also present you a video of one of the Ferrari LaFerrari prototypes on a recent test drive around Maranello. The video comes courtesy of our reader Hendrik from the Dutch rock band brainphArt.
Ferrari P1 unveil at Geneva 2013
Without a doubt to be continued…!