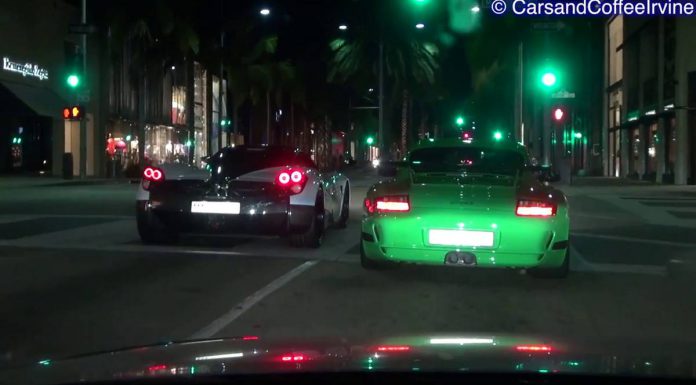 This white Pagani Huayra is not new here, it's the same Huayra which was spotted in Beverly Hills and has so far received quite a lot of attention form the media. Being one of the very first Huayra's to go back to the US since Monterey 2012; the Italian supercar is definitely getting all the love and attention it deserves.
This is a video showing this Huayra on the streets, you get to hear the amazing sound from its AMG sourced V12 engine, revving on the streets while stretching that rev band, only the driver can actually tell what it feels like. Alongside it, a green Porsche 911 and a Mercedes-Benz G-Wagon adding to the list of European sports cars and SUVs. Cars and Coffee Irvine filmed the video.
The cars costs $1.3 million and it boasts of a carbon-titanium body and powered by a specially developed AMG V12 engine with twin-turbos. It produces 720bhp and 1000Nm of torque and comes with a single clutch, seven speed sequential gearbox. All this results to a sprint from zero to 100km/h in just 3.3 seconds and has a top speed of 372km/h.