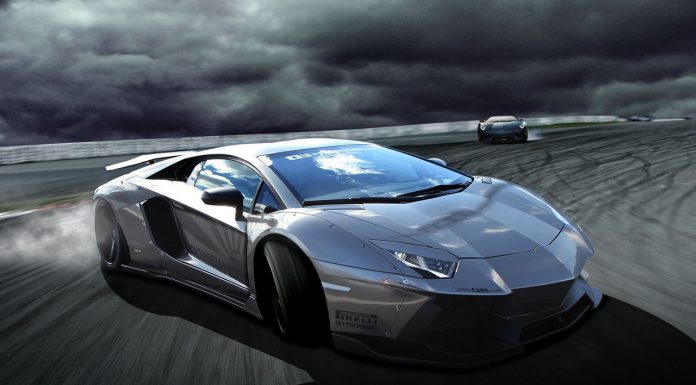 It almost goes without saying that the widebody Lamborghini Murcielago created by Japanese tuner LB Performance is one of, if not that the most radically redesigned Murcielago currently in existence. Featuring a unique chrome finish with massive wide wheel arches and completely new front and rear bumpers, the car takes the insane ingredient present in all Lamborghinis and adds some ultra-spicy chilli to it.
However, the successor to the Lamborghini Murcielago, the Lamborghini Aventador, has been in production for a few years now and LamboCARS recently put together the following rendering of what a possible widebody Lamborghini Aventador by LB Performance could look like. As you would expect, the rendering includes many similar elements found on the LB Performance Murcielago.
As a result, this rendering shows the Lamborghini Aventador by LB Performance with a unique chrome finish, wide wheel arches with exposed bolts, a significantly larger air intake on the sides as well as a much more aggressive front bumper. This new bumper incorporates a whole manner of new features including a massive additional front spoiler. Completing the transformation are a set of massive wheels and a Lamborghini Murcielago LP670-4 SV inspired rear wing.
It's not yet known if LB Performance plans to tinker with the Lamborghini Aventador, but if it does, expect a result very similar to this.
[Via LamboCARS]