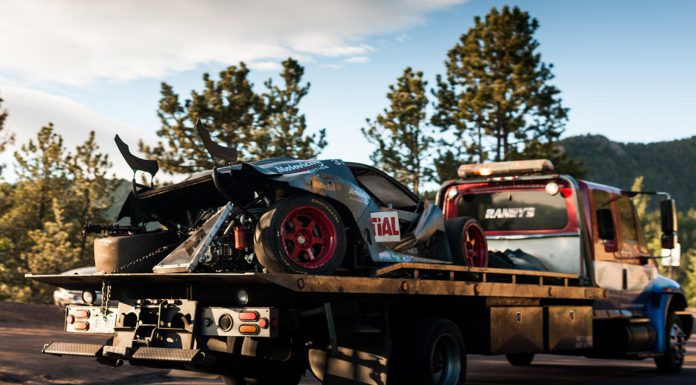 Today marked the first day of Pikes Peak practice; a day which also saw the infamous hill climb course claim its first victim.
Cody Loveland's tube-frame NSX, which was powered by a Corvette engine, crashed on the second turn of the hill climb course after a rear upper control arm failed. The car reportedly smashed into a wall of boulders and trees before catching on fire shortly after. While the car appears to be a total write-off, Cody remains hopeful that the car will be repairable. Describing the accident on his Facebook page, it becomes clear that he is very lucky to have escaped without any major injuries to speak of.
Cody posted the following on his Facebook page: "2nd corner in, the rear upper control arm failed sending me violently into large boulders at 80+ mph, followed by a massive flame and panicked escape. I'm fine. Light a few eyelashes, an eyebrow, and some ghoatie. The car burned for three minutes and it's looking grim. Thanks everyone for the support, we will tear it down today and see if there's hope."
As of this writing, it is also reported that Pat Doran has also crashed his Ford RS200 and is reportedly "shook up, but fine." We will keep you updated as the Pikes Peak festivities continue.