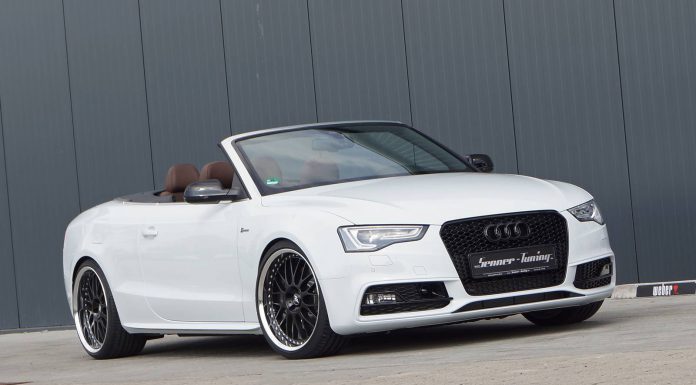 Its summertime, the perfect time for a topless drive down your favorite sunny roads with your topless car of choice. For Ingelheim-based tuner Senner Tuning, that car is the new Audi S5 Cabriolet. They have just finished a new project giving the open top sports car more power and torque.
This one is finished in Glacier white metallic, but it's the RS5 parts that give it the meaner look. Senner understands that summertime calls for more than just power and looks will go beyond the power on the streets, therefore, they fitted the RS5 radiator grill, the ornamental fog lamp covers and the Audi rings on the front and rear, the rear apron insert and the "super-charged" mud guard emblems in black.
Still on the exterior, the car was treated to Work VS-XX wheels in sizes of 9×20 and 10.5×20 inches. These wheels are then shod to flat Continental Sport Contact 5P tires sizing 255/30R20 and 295/25R20. To better the ride, they added the adjustable rebound and compression damping, the Bilstein B16 coilover kit.
We can comfortably talk about the power now. You realize that Audi dropped the 4.2 FSI V8 engine opting for the 3.0 liter supercharged engine. The V8 is now used in the Audi RS5 models and with more power of 450 hp, even the S5 coupe models which had stuck with the V8 now use the V6 supercharged engines. The V6 supercharged comes from the factory with 329hp and 440Nm of torque. Standard on the Cabrio is the 7-speed S-tronic dual-clutch transmission.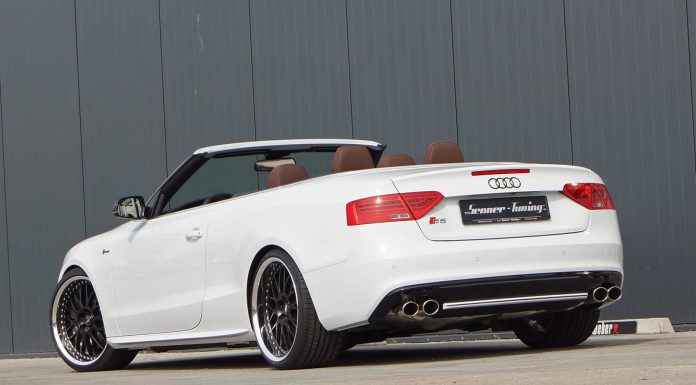 Senner then boosted this performance to 435hp and 501Nm of torque and the result is an autobahn maximum exceeding 250 km/h. They fitted a power converter which sharpens the throttle response. It also has a quad-pipe sports exhaust system with valve control and sound regulated by a remote control.
The driver control unit is treated fully to RS5 standards with RS5 parts where the speedometer cover is in high-gloss black while the pedal pads and the footboard are from the RS5 variant.