The continious rain of the last few weeks in Southern-Germany and part of the Alps has taken its toll on a Jaguar Landrover dealership in the Bavarian town of Deggendorf. The last week Deggendorf and the surrounding area got flooded when the Danube river couldn't take all the rain water and water from connecting rivers. The complete south bank of the Danube near Deggendorf but also large parts of Central Germany and Czech Republic flooded.
The Jaguar Landrover dealership called Autohaus Griesbeck is located near the German Autobahn A3 that was closed due to the floods for several days as well. The water came so quickly that the dealer didn't have time to move the cars in is showroom to higher ground. And the water came over the Jaguar F-Types roof and also the Range Rovers were nearly completely drowned in the showroom.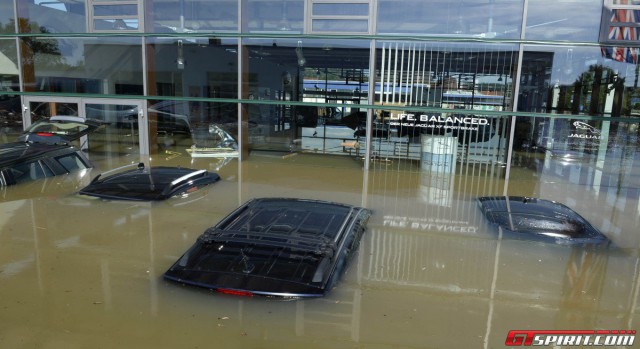 The cars in the showroom can most likely all be considered a total loss. Now with the water gone a huge job of cleaning and fixing will begin. We wish Autohaus Griesbeck and the people in Deggendorf and other flooded areas all the best!