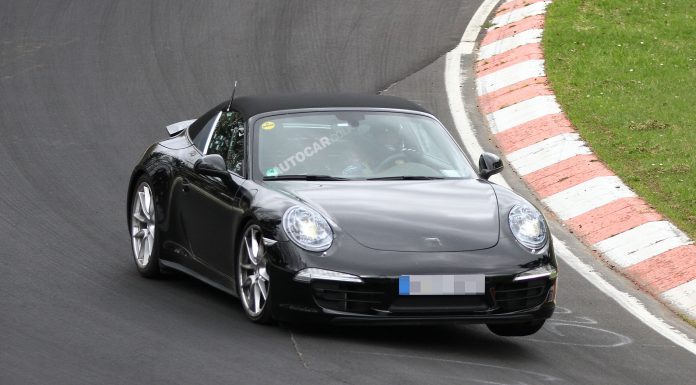 A prototype for the upcoming 2014 Porsche 991 911 Targa was recently spied undergoing high-speed testing at the legendary Nurburgring in Germany.
The following images suggest that the 2014 Porsche 991 Targa could in fact be the very next variant of the facelifted and upgraded Porsche 991 series to be released based on the minimal camouflage this prototype was spotted wearing. If this is the case, then an official launch will take place just prior to the Los Angeles Motor Show in November where the 2014 Porsche 991 Targa is expected to have its world debut.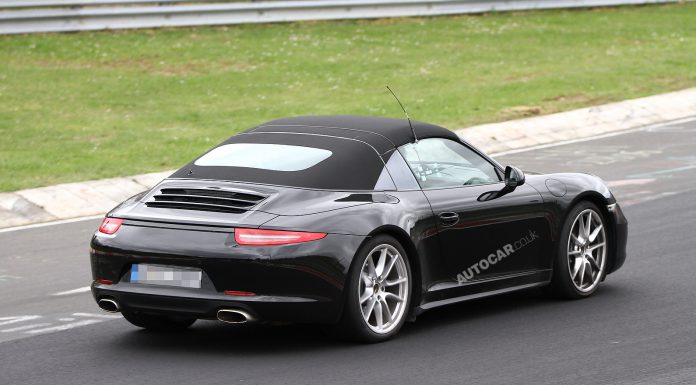 Differentiating the 2014 Porsche 991 Targa from the previous generation Porsche 997 911 Targa will be its redesigned glass roof which instead of simply sliding back like a huge sunroof on the 997-generation Targa, the 2014 Porsche 991 Targa will in fact have a removable glass panel as well as thick B-pillars wrapping around the roof.
When the 2014 Porsche 991 Targa is released in the coming months, it's expected to feature an all-wheel drive system similar to that found on the previous-generation car. The 2014 Porsche 911 Targa will then be offered with a 345hp, 3.4-liter flat-six engine and a 395hp, 3.8-liter flat-six engine from the Porsche 991 911 Cabriolet.
Stay tuned to GTspirit for more details soon.
[Via Autocar]