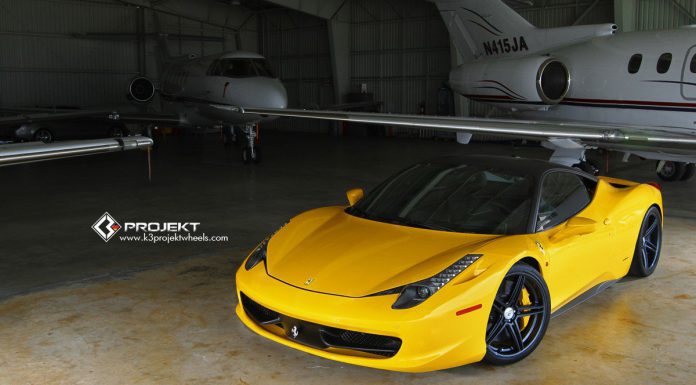 K3 Projekt wheels have been quite steady so far having showed us a Mercedes-Benz S63 AMG and a CLS 63 AMG both on their wheels. This time round they have decided to take things a little bit Italian, well, more Italian with their new project-a yellow Ferrari 458 Italia. The Ferrari 458 Italia requires no introduction on here; in fact it requires no introduction anywhere since its one of the most outspoken sports car of modern times.
What K3 Projekt did is they replaced the rather boring factory wheels with their very own F2 design wheels sizing 20×9 inches in the front and 20×10.5 inches in the back. This is a 2013 Ferrari 458 but an even broader stance was added to it by lowering it for further stability, it features a custom matte black roof too. These custom Hydro dipped carbon fiber wheels were then wrapped in Michelin tires in sizes of 245/30/20 in the front and 315/25/20 inches in the rear.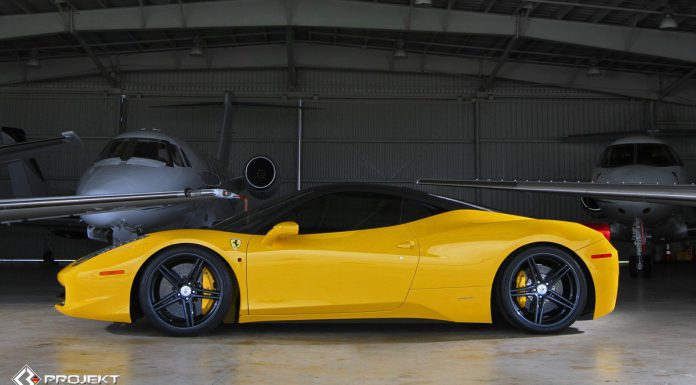 A quick reminder of what you find in the 2013 Ferrari 458 Italia; the 4.5 liter V8 with direct injection coughing 562hp at 9000rpm and 125hp per liter-that's a record for naturally aspirated engines. 80% of the total torque available can be used at only 3250rpm. It's mated to a 7-speed DCT that allows it to sprint from naught to 97km/h in 3.3 seconds before attaining the 201mph top speed. The base price is around $233,509.