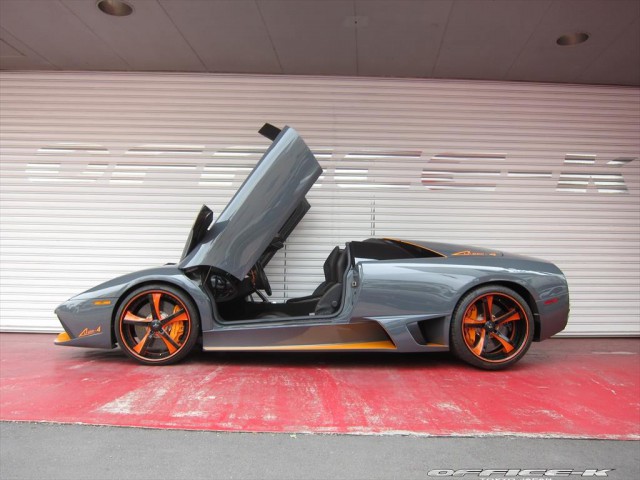 Japanese tuner Office-K has recently finished on a new project based upon a Lamborghini Murcielago LP650-4 Roadster. Among the highlights of the project is the Powercraft exhaust system to enhance its airflow and give it the rogue sound. They also set it on 20 inch Savini wheels design SV29C. The wheels contrast its Grigio Telesto body but they are complemented by the orange "LP650-4" labels on the car. An orange and black scheme was used on the custom wheels to give the roadster a sassy look.
Other details in their project include the HID 8000K xenon lights to give it a menacing look during the nights and under those tunnels. They also added LED position bulb and an LED license bulb as part of the lighting enhancements.
Just a recap, when the roadster road-going version of the Murcielago was introduced in 2004, it lacked the LP640 status which Lamborghini would later update in 2006. In 2009, they introduced the LP650-4 roadster powerful than all at 641hp and a 0-100km/h in 3.4 seconds. The top speed shot up to 330km/h. as you can see from the roadster here, indeed the only color that was available was the Grigio Telesto!