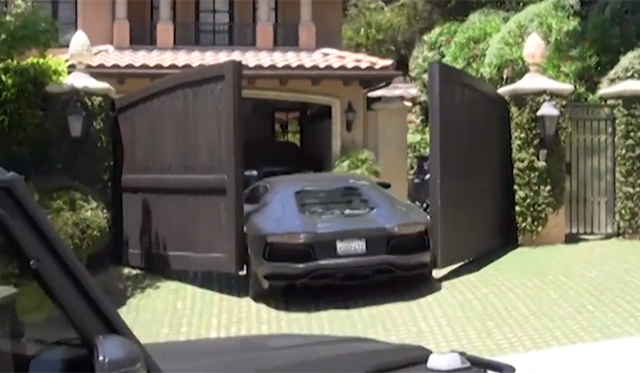 Kanye West's matte black Lamborghini Aventador which he received as a Birthday present from girlfriend Kim Kardashian may be one of the fastest supercars on the planet but after its latest incident, it'll inevitably be one of just a handful of Aventador's with external damage.
It goes without saying that Kanye West and his girlfriend try and avoid the paparazzi whenever they can, and while Kanye West's assistant was parking the U.S rapper's Aventador in their garage, the man's impatience to hide behind the electric gates resulted in the expensive Italian supercar being knocked in the side by the heavy wooden gates.
Obviously operated remotely, it seems as though Kanye West's assistance simply closed the gate too early whether intentionally or unintentionally while still entering the mansion's driveway.
After finally parking safely in the garage, the assistant looks understandably worried about the damage done to Kanye's matte black Lamborghini Aventador making sure he closes the gates before the filmer of the following clip can see the damage.
As a quick refresher, the Lamborghini Aventador features a 6.5-liter V12 engine producing 692hp helping to rocket the Lamborghini Aventador to 62mph in just 2.8 seconds before eventually hitting a top speed of 217mph.