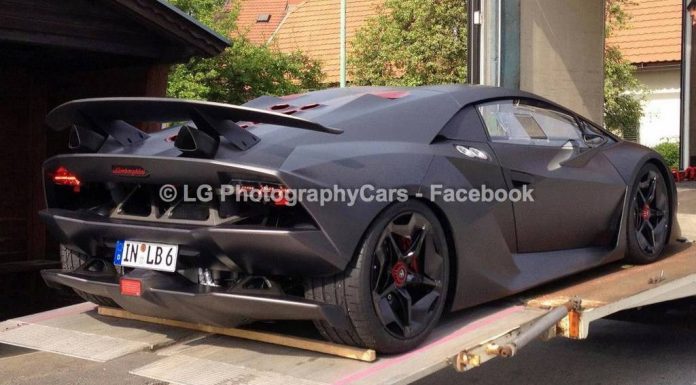 The very first image of what's believed to be the first production-spec Lamborghini Sesto Elemento has just leaked online.
Originally confirmed for production late last year, the Lamborghini Sesto Elemento was always assured to maintain the same insane styling as the concept car, but as the following image shows, it also features a few changes.
First and foremost, this Lamborghini Sesto Elemento is riding on a set of wheels vastly different to those previewed on the concept car with them clearly taking some inspiration from those fitted to the Lamborghini Veneno.
Additionally, this Lamborghini Aventador features the long-overdue transmission plate which covers up the once uncovered transmission which simply stuck out from the back of the concept car.
Further confirming that this is indeed a production-spec Lamborghini Sesto Elemento is the fact that it has a German licence plate at the rear!
As a quick refresher, the Lamborghini Sesto Elemento borrows the 5.2-liter V10 engine from the Lamborghini Gallardo LP570-4 Superleggera producing 570hp and 398b-ft of torque. Combine that with a low overall weight of just 999kg and the Lamborghini Sesto Elemento can hit 100km/h in just 2.5 seconds!
We are aware that a replica Lamborghini Sesto Elemento was built for use in the upcoming Need for Speed movie. We think this car is different on account of the windows. The Need for Speed car has normal windows whereas, this example features race style perspex.
[Via Facebook]