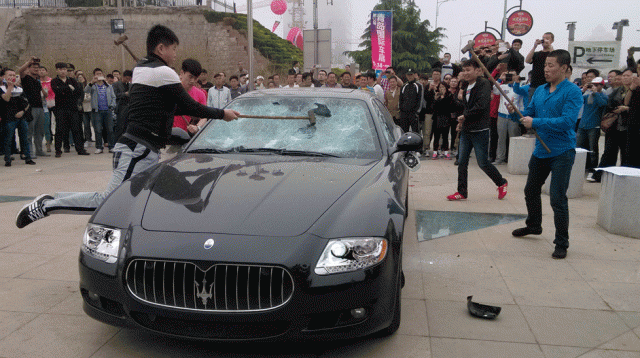 An angry Chinese Maserati Quattroporte owner has taken to his luxurious Italian sedan to protest bad customer service from his local Maserati dealership of the Furi Group.
The Maserati Quattroporte, which costs the equivalent of $428,000 USD was completely destroyed after the owner currently known by his last name of Wang, hired three men to help smash the Maserati Quattroporte outside the Qingdao International Auto Show where Furi Group had an exhibition.
Wang's frustration began after he returned the Maserati Quattroporte he purchased in 2011 for some minor repairs only to find that his prized car had been repaired using second-hand parts. Additionally, he received a large bill for the dodgy work.
http://www.youtube.com/watch?v=WaF19L9stpg
Leading up to the protest, the man was engaged in a dispute with the dealership and an associated insurer accusing them of fraud. The car in question is a 2011 spec Maserati Quattroporte with a 4.2 litre V8 engine and 400hp.
[Via Car News China]