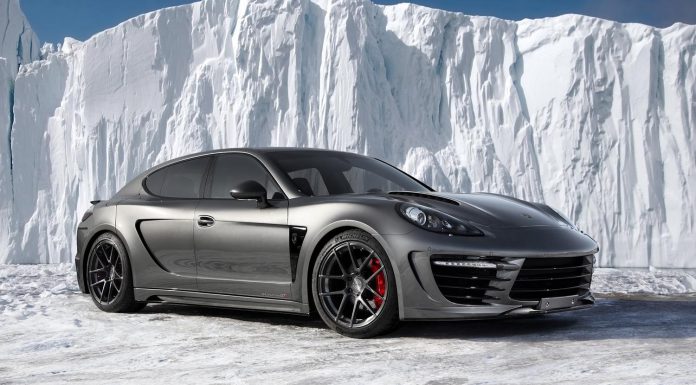 Russian tuner TopCar has given us some of the best tuning programs for the Porsche cars, they have showed us cars such as the Porsche Panamera Stingray GTR, Porsche Cayenne Vantage 2 and even the Mercedes-Benz ML63 AMG. In regard to the Panamera Stingray GTR, the car which is based on the Porsche Panamera is limited to 25 units only and the tuner has been building these cars with time since its debut. They have now revealed number 13 build of this project, meaning that only 12 are remaining.
This one comes in grey and just like the other 12, it comes with a new front and rear bumper set, carbon fiber bonnet, front and rear fender extenders, front and rear door panels and a set of side skirts. Each part is constructed from high-quality carbon fiber and kevlar.
For the Porsche Panamera Turbo, Top Car offers a 700hp upgrade. Their partnership with ADV.1 Wheels allows you to specify a set of wheels from their range for your new Panamera Stingray GTR. Prices for the complete conversion are set at € 47,765 for the carbon fiber parts and € 41,315 without carbon parts, the price of the car is not included.