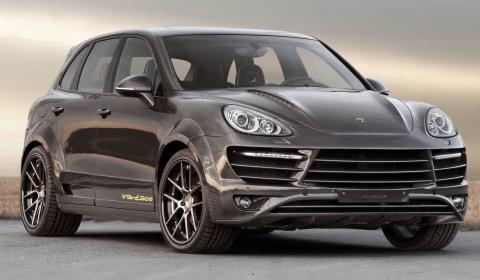 The second car to be presented at Top Marques Monaco by Top Car is the Top Car Cayenne Vantage 2 Carbon Edition. It's a one-off produced at the request of a client featuring a Carbon Gray exterior colour that blends into the naked carbon fiber and kevlar parts that form the basis of the new bodywork. We have of course presented this car before, we thought we'd just remind you of the details before you see our photos live from the show!
The body modifications fitted to this Cayenne Vantage 2 include front and rare bumpers, fenders, door sills, a new bonnet, a spoiler on the rear trunk and new exhaust pipes modelled on the iconic Porsche Carrera GT.
The Cayenne Vantage 2 Carbon Edition is based on the Porsche Cayenne Turbo. There are some mechanical modifications such as new software engine management, replaced air filters, a new sports exhaust system and a sports brake system from Brembo. The Carbon Edition is completed with a set of ultralight forged wheels from ADV.1.