After being spied testing multiple times wearing heavy black camouflage recently, the 2014 Porsche 911 Turbo has just ventured outside wearing absolutely no camouflage and GTspirit has some of the clearest images captured of the car thus far!
As with all previous Porsche 911 Turbo models, the 2014 Porsche 911 Turbo features a selection of very tasteful modifications including a new rear spoiler, redesigned quad exhaust system and two additional air vents on the rear of the rear wheel arches.
At the front the car then features a more aggressive front splitter and the redesign has been finished off with the traditional Porsche 911 Turbo air intakes behind the doors, as well as yellow brake calipers and awesome matte black wheels.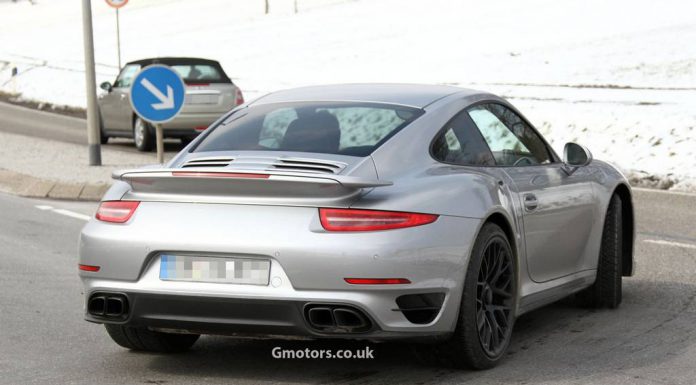 Just like the recently introduce 2013 Porsche 911 GT3, the 2014 Porsche 911 Turbo is expected to feature four-wheel steering and will feature a 3.8-liter tri-turbo engine delivering 550hp. As a result, the 2014 Porsche 911 Turbo should hit 62mph in well under 3 seconds before topping out at 195mph.
[Via G Motors]