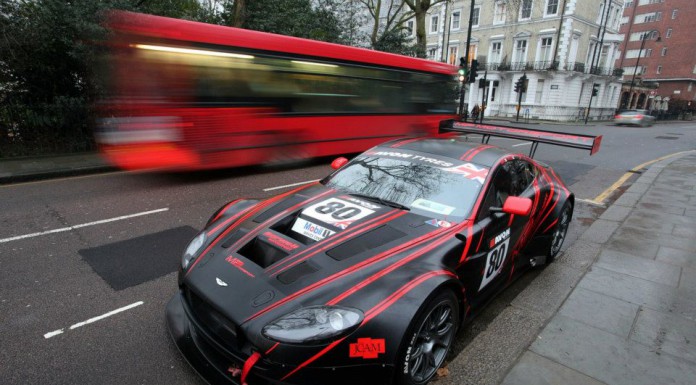 The Avon Tyres British GT championship is due to kick off in a weeks time over the Easter weekend 30 March and 1st April.
The media day held in South Kensington, London on 7th March showcased some of the cars which will take to the track. The event covered the race calendar and Race formats which will see three sprint weekends comprising of two 60 minutes races at Oulton Park, Snetterton and Zandvoort. There will be three enduro weekends consisting of one 120 minute race with refueling pit stops. Held at Rockingham, Brands Hatch and Donington Park. The Silverstone 500 will be a 180 minute endurance race with refueling pit stops at Silverstone in May.
This format of racing will showcase the cars and drivers in different styles. How the teams can deal with refueling pit stops and endurance racing. It will lead to an exciting and fast paced race season.
The Media launch night featured An Avon Tyres Double Decker Bus, a donated London Black Cab and Avon Tyres Promo Models. Cars featured on the streets of London were United Autosports McLaren MP4-12c and the MP Motorsport/JCAM backed Aston Martin V12 Vantage.
BenjaminFranassovici, Championship Manager:
"Its great to see the series progress and get better and better over the last three seasons, seeing new teams, some from overseas, joining our loyal teams and drivers, means the platform is doing the right thing. We expect more cars to join us during the season, we will aim for 40 cars for the Silverstone 500 in May which will also be televised live on Motors TV, another first for us. With British GT being top bill at Zandvoort, we're confident our overseas race will be another big success and its exciting to visit a new country with the series. I can't wait for Oulton Park now to see the cars on track."
It has been announced that the Championship will have a 33 car line up.
Avon Tyres British GT Championship 2013 entry list:
1, Motorbase, Ahmad Al Harthy & Michael Caine, Porsche 997GT3R, GT3
3, Rosso Verde, Hector Lester & Allan Simonsen, Ferrari 458 Italia GT3, GT3
6, PGF-Kinfaun AMR, Phil Dryburgh & John Gaw, Aston Martin Vantage GT3, GT3
7, Beechdean AMR, Andrew Howard & Jonny Adam, Aston Martin Vantage GT3, GT3
8, 888Optimum, Lee Mowle & Joe Osborne, BMW Z4 GT3, GT3
10, M-Sport Racing, Rembert & Berg Warren Hughes, Audi R8 LMS Ultra, GT3
11, PE Group Blendini Moto, Dom Evans & Tom Roche, Audi R8 LMS, GT3
13, AF Corse, John Dhillon & Aaron Scott, Ferrari 458 Italia GT3, GT3
14, Fortec, Drivers TBA, Mercedes AMG SLS GT3, GT3
15, Fortec, Drivers TBA, Mercedes AMG SLS GT3, GT3
16, LNT, Richard Sykes & Lawrence Tomlinson, G55 Ginetta GT3, GT3
18, FF Corse, Gary Eastwood & Rob Barff, Ferrari 458 Italia GT3, GT3
21, Mtech, Duncan Cameron & Matt Griffin, Ferrari 458 Italia GT3, GT3
22, Preci Spark, David Jones & Godfrey Jones, Mercedes AMG SLS GT3, GT3
23, United Autosports, Zak Brown & Alvaro Parente/Rob Bell, McLaren MP412C, GT3
24, United Autosports, Richard Meins & Mark Blundell, McLaren MP412C, GT3
25, United Autosports, Mark Patterson & Matt Bell, Audi R8 LMS Ultra, GT3
27, Vita4one Team Italy, Jay Palmer & Matteo Bobbi, Ferrari 458 Italia GT3, GT3
32, Trackspeed, Gregor Fisken & Richard Westbrook, Porsche 997GT3R, GT3
33, Trackspeed, Jon Minshaw & Phil Keen, Porsche 997GT3R, GT3
41, Mtech, Derek Johnston & Parthiva Sureshwaren, Ferrari 458 Italia GT3, GT3
43, Century Motorsport, Zoe Wenham & Declan Jones, Ginetta G50, GT4
44, Optimum Motorsport, Ryan Ratcliffe & Rick Parfitt Jnr, Ginetta G50, GT4
50, Redgate Lifetime, Matt Smith & Dan Eagling, Ginetta G50, GT4
51, Nigeria Racing Eagle, Christian Ebong & Adrian Zaugg, Audi R8 LMS, GT3
53, Complete Racing, Steven Chaplin & Tom Wilson, Aston Martin GT4, GT4
69, APO Sport, James May & Alex Osborne, Ginetta G50, GT4
76, IDL-CWS, Colin White & Tom Sharp, G55 Ginetta GT3, GT3
78, Barwell Motorsport, Ron Johnson & Piers Johnson, BMW Z4 GT3, GT3
79, Ecurie Ecosse, Marco Attard & Oliver Bryant, BMW Z4 GT3, GT3
80, Barwell Motorsport, Mark Poole & Richard Abra, Aston Martin Vantage GT3, GT3
86, GPRM, Driver TBA & Stefan Hodgetts, Toyota GT86, GT4
888, 888 Optimum, Steve Tandy & Dan Brown, BMW Z4 GT3, GT3