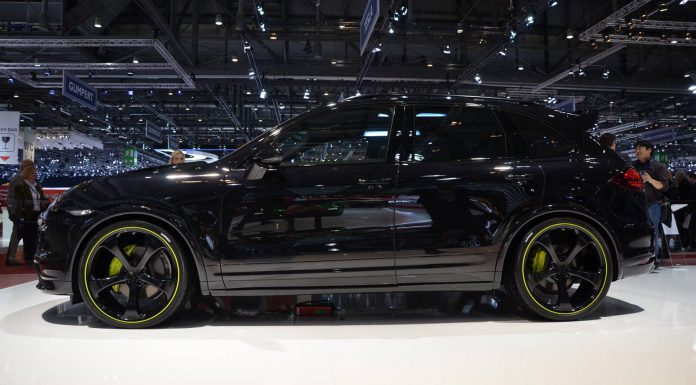 Techart are displaying the recently released TechArt Porsche Cayenne S Diesel at the Geneva Motor Show 2013. The upgrades applied to Porsche's flagship Diesel SUV extend only to the styling package at the moment. A performance package is promised in the very near future though. We sent a photographer over to capture the new Cayenne!
The TechArt Porsche Cayenne S Diesel design program adds a custom look to the V8 diesel-powered SUV. The program incorporates a large amount of parts including a roof spoiler, a rear apron with integrated diffuser, side skirts, a three-part front spoiler with integrated air outlets, headlamp and taillight trims.
Upgrades offered for the TechArt Porsche Cayenne S Diesel include multifunctional daytime running lights, sport tailpipes, a vented hood and a lighting package with LED or halogen lights as twin headlights with high-beam and fog lights. Finishing off the exterior package is a selection of light or forged 20- to 23-inches alloy wheels.
When it comes to the interior, customers can choose from a variety of options from TechArt paddle shifters and TechArt steering wheels up to a full re-work of the cabin's upholstery.
If you want more details on the TechArt Porsche Cayenne S Diesel, feel free to check out the embeded link. If you are at the Geneva Motor Show over the next couple of weeks, don't forget to go and check it out!