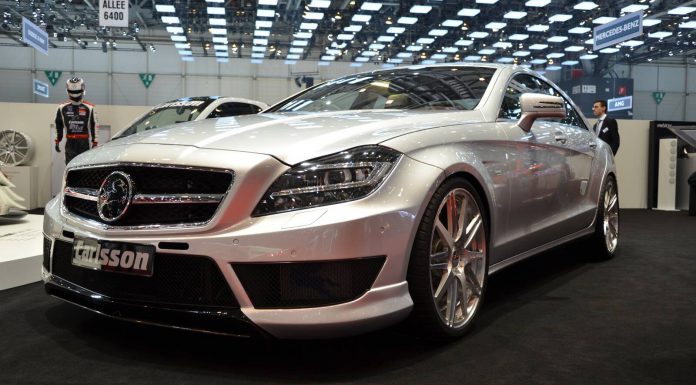 Carlsson have two new launches at the Geneva Motor Show 2013. The Carlsson CK63 RSR is one of them. This 700hp CLS is the most powerful package Carlsson have offered yet. It remains relatively subtle to look at too. We sent a photographer to snap some images!
The Carlsson CK63 RSR is based on the CLS 63 AMG. In factory spec, this means it features a 5.5-litre V8 biturbo engine rated at 518hp and 700Nm of torque. of course, Carlsson have lifted the power. Carlsson through their tuning program have pushed the numbers to 700hp at 5,700rpm with 1,000Nm of torque between 2,000 and 4,500rpm. Peak torque is electronically limited to 1,000Nm to preserve the gearbox and drivetrain.
Carlsson had to utilize a more efficient intercooler system to lower charge air temperatures, as well as additional water and oil coolers to mitigate the increased thermal load. The seven-speed transmission is fitted with an additional, thermostatically-controlled oil cooler. The Carlsson CK63 RSR reaches 100km/h from rest in just 3.9 seconds, passing 200km/h in 11.6 seconds on its way to a calculated top speed of 340 km/h.

The interior, features handcrafted Carlsson Signature Line details for the Carlsson CK63 RSR. It features a combination of Brown Alcantara and Mocha Brown Carlsson Nappa exclusive leather. The package also comes with a three-year Carlsson warranty which covers all the Carlsson components up to 100,000 kilometers.
If you want further details of the Carlsson CK63 RSR, click through to the embedded link.