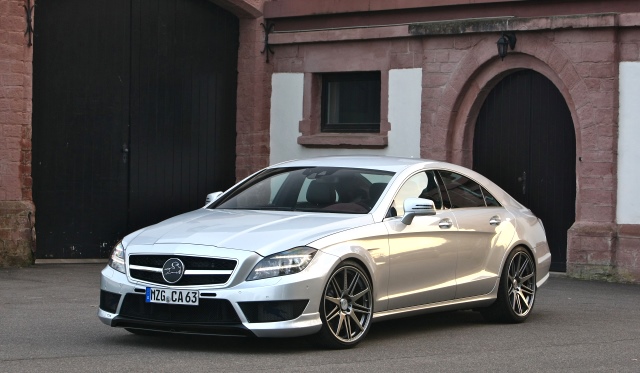 We recently revealed one of Carlsson's debuts planned for the 2013 Geneva Motor Show, the Carlsson SLK 340 based on the SLK. The Carlsson SLK 340 Race Car is planned for international hill climb racing in the E1 category. The tuner has now revealed a second planned debut for the Geneva show which comes in the form of a 340km/h Carlsson CK63 RSR.
The Carlsson CK63 RSR is based on the CLS 63 AMG. In factory spec, this means it features a 5.5-litre V8 biturbo engine rated at 518hp and 700Nm of torque. of course, Carlsson have lifted the power. Carlsson through their tuning program have pushed the numbers to 700hp at 5,700rpm with 1,000Nm of torque between 2,000 and 4,500rpm. Peak torque is electronically limited to 1,000Nm to preserve the gearbox and drivetrain.
Carlsson had to utilize a more efficient intercooler system to lower charge air temperatures, as well as additional water and oil coolers to mitigate the increased thermal load. The seven-speed transmission is fitted with an additional, thermostatically-controlled oil cooler. The Carlsson CK63 RSR reaches 100km/h from rest in just 3.9 seconds, passing 200km/h in 11.6 seconds on its way to a calculated top speed of 340 km/h.
The airflow is enhanced through the Carlsson stainless steel sports exhaust system incorporating 200-cell metal catalytic converters to further reduce back-pressure. It features an electronically controlled sound valve, this means the driver has the choice of a near standard sound level for civilized progress through urban areas, or a full-on, snarling muscle car V8 experience at the touch of a button.
With great power comes great suspension. Carlsson applied bespoke height adjustable coil-overs with 10-position bounce and rebound adjustment to cover road or track use. The car is normally set 30mm lower than standard for road use and the front track has been widened by 25mm with spacers for better turn-in and stability in the bends.
The exterior of the Carlsson CK63 RSR is graced by the Carlsson alloys wheels that come in sizes of 20 or 19 inches but most notable is the Carlsson RS carbon- fibre front spoiler lip, black stainless steel mesh inserts in the intake grilles, brake cooling intakes, and rear carbon valance insert. At the rear is an electrically retractable rear spoiler, which extends into the airflow automatically at 100km/h, with manual activation possible at any speed.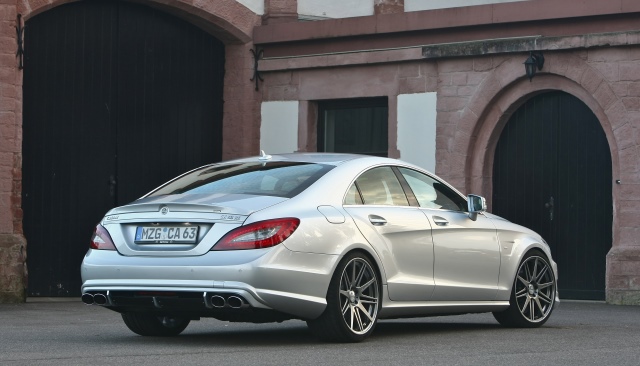 The interior, features handcrafted Carlsson Signature Line details for the Carlsson CK63 RSR. It features a combination of Brown Alcantara and Mocha Brown Carlsson Nappa exclusive leather. There are the Carlsson interior floor mats, polished aluminum sill plates with blue illuminated Carlsson logo, and aluminium door locking pins. The three-year Carlsson warranty covers all the Carlsson components up to 100,000 kilometers.