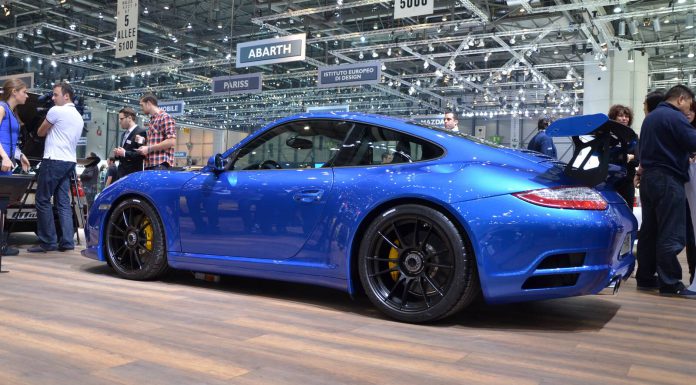 RUF Automobile is showing the RUF RT 12 R at the Geneva Motor Show 2013, a supercar based on the Porsche 997 series. This version saves more time on the track with a reduced weight over its predecessor. With this updated model, RUF is offering lifting system specially developed for the front suspension, enabling the car to negotiate traffic calming humps and bumpy driveways without grounding the front spoiler.
The powerhouse features a 3.8 liter engine developing a maximum power of 537 kW (730 bhp) at 7,000 rpm and a maximum torque of 940 Nm at 3,500 rpm. It's mated to a 6 speed manual gearbox and is also 4WD standard with a rear wheel drive optional, the top speed is said to be over 370 km/h. It also features curved wings derived from the RUF CTR 3.
This Grand Tourer comes with a carbon fiber rear spoiler, lightweight front with carbon fiber wings, carbon fiber front luggage cover with an optional carbon fiber roof. The doors are made of aluminum while the interior features carbon bucket seats and a rollcage and crossbar integrated in the interior paneling.