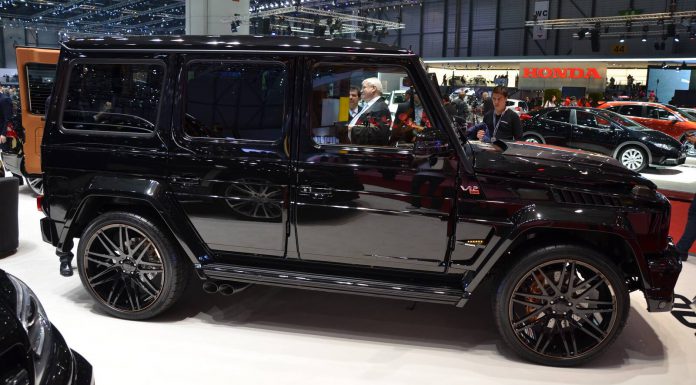 Brabus have a strong display at the Geneva Motor Show 2013. Strong in terms of both sheer power and in terms of quality. One of their European debuts is a Mercedes-Benz G65 AMG, tuned to produce a staggering 800hp! We sent a photographer to take a look at it.
The Mercedes-Benz G65 AMG features a twin-turbocharged 6.0 liter V12 AMG engine as standard. Its the biggest engine Mercedes fits to its G-Class models. With the standard G65 AMG you get 612hp and a torque figure of 1,000Nm. With the Brabus G800 that figure is increased to 800hp peak power 1,420Nm of torque with the same 6.0 litre displacement.
To release the extra power, Brabus fits a new set of twin turbochargers, two new Brabus motor mounts, a custom intercooler with four air to water heat exchangers, low pressure metal catalysts, a Brabus tuned engine management system and increased cooling for the hood and front fenders. Brabus have also fitted a stainless steel exhaust system.
Performance takes a suitable increase too. Zero to 100km/h in a standard Mercedes-Benz G65 AMG takes just 5.3 seconds with a limited top speed of 230km/h. In a Brabus G800, that figure increases to 4.2 seconds for the zero to 100km/h sprint and a limited top speed of 250km/h. That's a performance gain of 1.1 seconds!
For further details, check out our earlier Brabus G800 post through the embedded link!