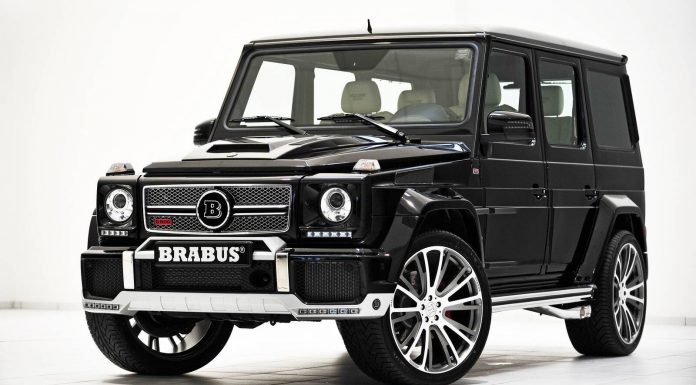 Brabus will unveil the Brabus G800 at the Geneva Motor Show 2013. Its one of three new releases planned for the worlds biggest motor show! The Brabus G800 is based on the brand new, ultra-exclusive Mercedes-Benz G65 AMG.
The Mercedes-Benz G65 AMG features a twin-turbocharged 6.0 liter V12 AMG engine as standard. Its the biggest engine Mercedes fits to its G-Class models. With the standard G65 AMG you get 612hp and a torque figure of 1,000Nm. With the Brabus G800 that figure is increased to 800hp peak power 1,420Nm of torque with the same 6.0 litre displacement.
To release the extra power, Brabus fits a new set of twin turbochargers, two new Brabus motor mounts, a custom intercooler with four air to water heat exchangers, low pressure metal catalysts, a Brabus tuned engine management system and increased cooling for the hood and front fenders. Brabus have also fitted a stainless steel exhaust system.
Performance takes a suitable increase too. Zero to 100km/h in a standard Mercedes-Benz G65 AMG takes just 5.3 seconds with a limited top speed of 230km/h. In a Brabus G800, that figure increases to 4.2 seconds for the zero to 100km/h sprint and a limited top speed of 250km/h. That's a performance gain of 1.1 seconds!
Styling gets a range of new upgrades ranging from a new front skirt, LED daytime running lights, illuminated running board caps, rear skirt, roof spoiler, rear skirt, front and rear fender flares and new door panels. Essentially, it is the Widestar package that we have seen before.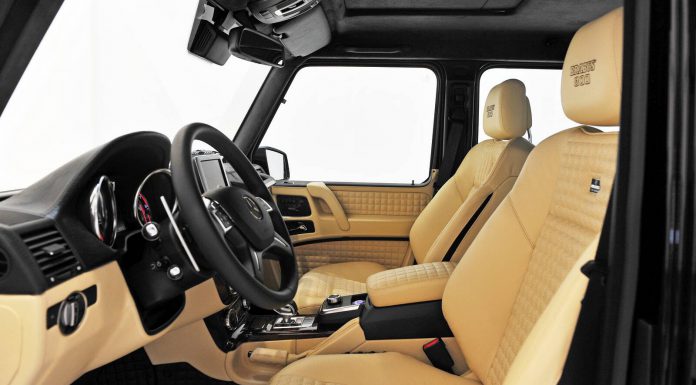 Ride Control suspension is fitted and can be adjusted via an aluminum button on the center console. This lets the driver manually choose between two setups for the two-way electrically adjustable shock absorbers; comfort or sport. The system also features automatic damper adjustment.
The body is a full 12 centimeters wider now and to balance the look, Brabus had to do something about the ride. Customers get the choice of three rims. The range is called "Platinum Edition" and each wheel measures 11Jx23. The most popular is the Monoblock E evo and Monoblock F "Platinum Edition" designs, yet there is also a Monoblock R forged wheel. Finishes can be bespoke ordered and tyres are from either Continental, Pirelli or Yokohama in sizes 305/35 R 23.
Interior options can be as bespoke as the customer wants them to be. We will of course be bringing you full details at the Geneva Motor Show in just over a week's time!