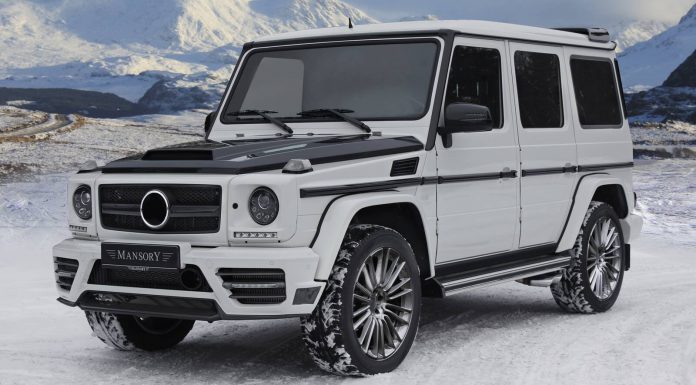 Mansory has revealed its tuning program for the Mercedes-Benz G-Class that lends the all-terrain vehicle a sportier and significantly more individualistic feel. It features a new aerodynamic styling kit with front spoiler, front bumper, LED daytime running lights and a new radiator grille.
The main headlights are the centerpiece of the new Mansory light element design. This gives the Mercedes-Benz G-Class by Mansory a completely unique look. The carbon fibre hood harmonizes with the roof spoiler. The G-Class also features a new rear bumper, designed with a diffuser and finished with a set of carbon fiber tail light covers. The new carbon fiber mirror housings add ornamental carbon fibre trim which adds to the sporty look.
Air flow is enhanced through the use of a Mansory sports exhaust system giving a beefy and imposing sound. The Mercedes-Benz G-Class by Mansory sits on the company's latest development, a one-piece light-alloy wheel. The rims have ten twin spokes and measure 23 inches. They are coated in ultra-high-performance 305/30/23 Vredestein Ultrac Vorti tyres.
The interior of this Mercedes-Benz G-Class by Mansory hasn't been compromised. It features leather work of the master craftsmen which is particularly durable yet still extraordinarily soft. This characteristic natural product with its graining and the perfect hand stitching gives an air of extravagant flair all around the newly designed sports steering wheel with airbag. The pedals manufactured from aluminum and the genuine carbon fiber applications round off the exclusive Mansory range for the Mercedes-Benz G-Class.