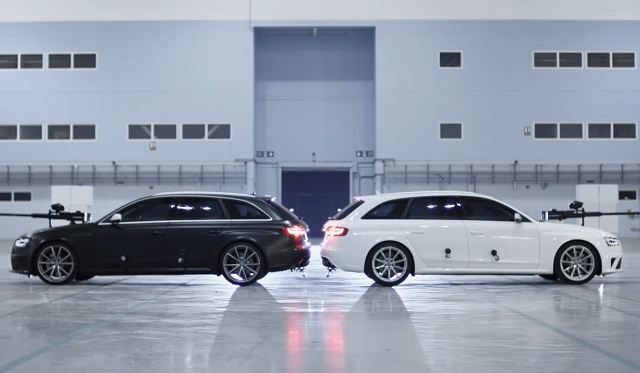 This is something we haven't seen before. Two brand new Audi RS4 Avant's fitted with paintball guns. We guess its one of those, 'because we could videos' as it doesn't particularly demonstrate what most would consider is the Audi RS4 Avant's greatest features.
For those that haven't considered the Audi RS4 Avant before. It's Audi's answer to the BMW M3 in some respects, that is if its Bavarian rival make an Estate version of the M3. Beneath the muscular body kit lies a naturally aspirated 4.2 liter V8, with 450hp and 430Nm of torque. Audi's quattro system is fitted and receives power via a seven-speed dual-clutch automatic.
When we drove it late last year we found it to be an entertaining drive but lacking that crucial fun factor. The Audi RS4 Avant is probably strongest when placed into the arms of a small family. Its load capacity and cruising ability are sure selling points. Perhaps Audi UK are simply trying to prove that Audi RS4 Avant occupants are less likely to suffer paintball injuries? I guess we'll never know…
Enjoy the lighthearted video!
http://www.youtube.com/watch?v=rxhif43pLJ0