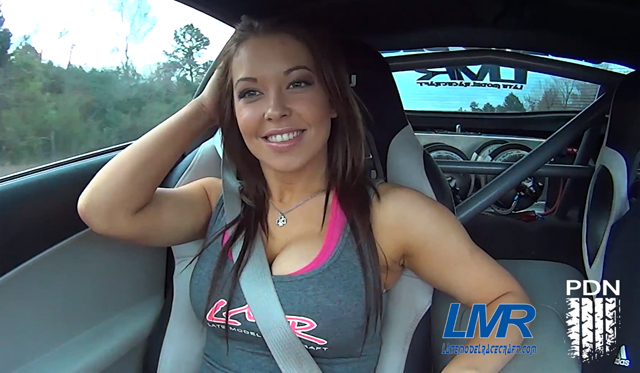 It hasn't been long since we brought you that infamous video of a bikini-clad Sarah Leann riding in a 1200awhp twin-turbo Lamborghini Gallardo which got all of our palms sweating profusely. Fortunately however, Leann has returned for another video, albeit this time in an 8-second Chevrolet Corvette and with much less skin showing.
This 8-second Lamborghini Gallardo is significantly faster than the twin-turbo Lamborghini Gallardo Leann did go for a ride in, and throughout the video it becomes clear that its massive rear wheels aren't capable of supporting all that power with the car sliding all over the place throughout the video.
Unfortunately, Leann's ride in the Corvette was incomplete due to rain, but High Tech Corvette did say, "We took Sarah Leann out for a ride in LMR's twin turbo Corvette, we will be doing a second part to this video because it started to rain and we couldn't get any traction, so this is kind of a teaser for a second video."
We can't wait or the second video so be sure to stay tuned!