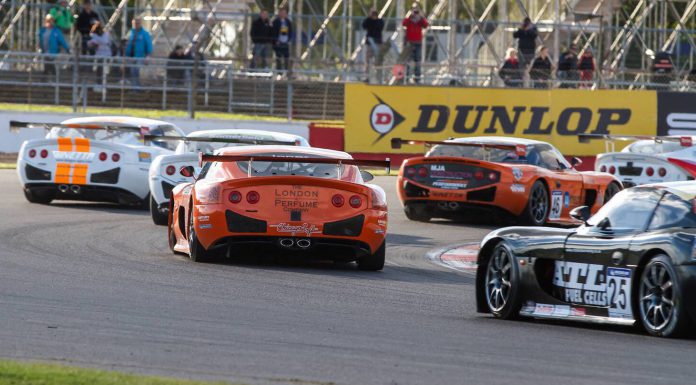 GTspirit will be covering the Britcar 2013 season and we want to take the opportunity to share the upcoming events for the 2013 season. Britcar is split into two different championships, MSA British Endurance Championship and Production Cup. The endurance championship consists of 180 minute races with between two and three drivers who race GT Cars from marques such as Ferrari, Porsche, Marcos, Mosler and Ginetta.
The Production Cup are 90 minute races with up to two drivers in per car. The Production Cup caters for Saloon based cars which can be seen on the road and for cars which are not as tuned, as they are in the Endurance Championship. Cars in the Cup include Renault Clio, Seat Leon Supercopa, BMW M3 and Mini Cooper's.
The winner of last years MSA Endurance Championship was Adams, Green and Byford in the Lotus Evora.
Britcar MSA British Endurance Championship
11th and 13th April Donington Park
10th-11th May Silverstone
31st May- 1st June Rockingham
28th July Brands Hatch
17th August Snetterton
20-22nd September Silverstone
30th October and 2nd November Donington Park (night race)
Britcar Production Cup Championship
13th April Donington Park
11th May Silverstone
1st June Rockingham
21st July Thruxton
17th August Snetterton
20-22nd September Silverstone 1000k
2nd November Donington Park
23rd November Brands Hatch (night race)
This year the 24hr race is being replaced with Silverstone 1000k race weekend. The 24 hour race from last year was a highlight as it showed real endurance from the teams and drivers and offered something different for the spectators. Back in 2007 the presenters of Top Gear took part in the 24 hour event and finished in 39th place at the end of the 24 hours.
The Silverstone 1000k race will have two 1000km races. Saturday evening will be for Production Cup teams who will race at night. The Sunday afternoon will host the MSA Endurance Championship 1000km race.
We have a selection of Steven Roe's highlights of the 2012 season and some of his favourite racing machines on track and in the Pits.