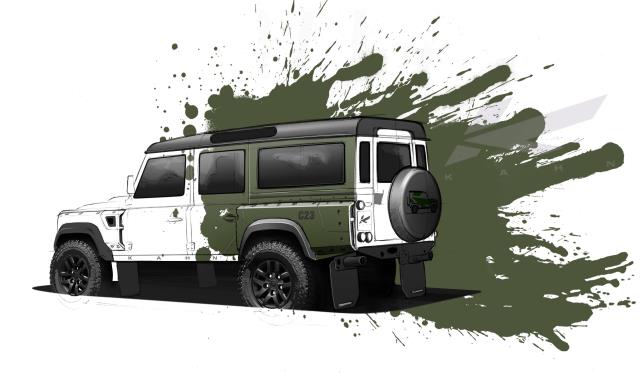 A. Kahn Design recently released the Military Edition Land Rover Defender. Now the British tuner has revealed a new sketch of the Defender 110 – Concept 23. It's set to bring an element of adventure and romanticism to its owners.
Kahn gives the Defender an aggressive looking wide track arch kit which consists of lightweight extended wide wheel wings with integrated vents, side vents with mesh, bonnet vents with mesh, clear rear light lenses, clear side repeaters, clear front light lenses, crosshair headlights and Kahn prototype wing blades, Kahn prototype tailgate badge and the Kahn oval tailgate badge.
The wheels used are the 1948 8×16 inch Defender wheels finished in satin black. They fit with all original centre caps. They have simple clean lines, soft organic surfaces on the edge of the spoke and a purposeful mechanical centre.