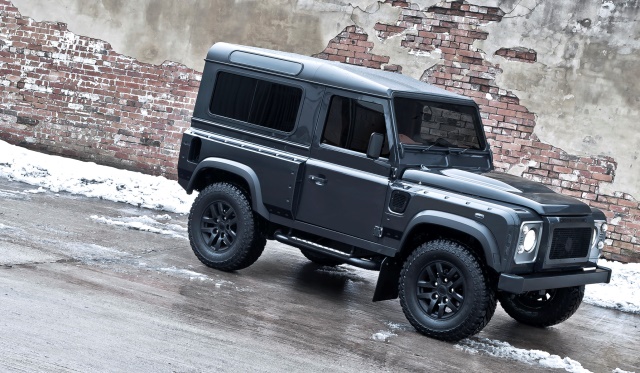 A Kahn Design has revealed a Land Rover Defender concept Military Edition. The tuned Land Rover Defender continues Kahn's mission to raise the model's profile. With few tuners giving attention to Defender, Kahn has produced an interesting kit. It consists of lightweight extended wide wheel arches with integrated vents.
The kit features vented headlight surrounds, side vents with mesh, bonnet vents with mesh, clear rear light lenses, clear side repeaters, clear front light lenses, crosshair headlights, Kahn prototype wing blades, Kahn prototype tailgate badge and a Kahn oval tailgate badge.
The Kahn have called this the Military Edition for a reason though. The wide body panels allow owmers to install layers of armored plates hidden underneath the bodywork of the Defender without having to modify the exterior of the car. All of the windows can also be replaced with special bulletproof glass similar to glass used to protect government officials but much lighter ensuring maximum protection.
The original concept of the Defender is not lost as Kahn fitted this one with 16 inch 1948 Defender wheels finished in matte black and fit all original center caps. You'll notice the simple clean lines, soft organic surfaces on the edge of the spoke and a purposeful mechanical center.