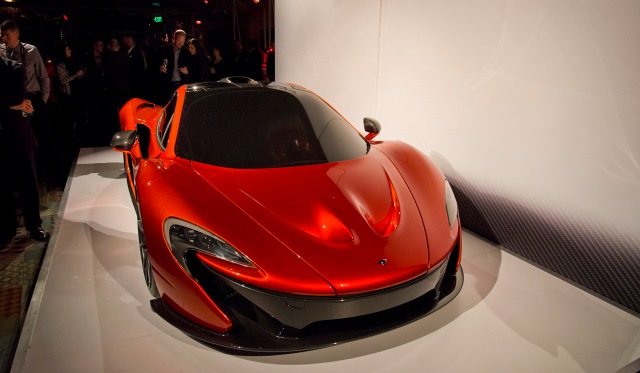 McLaren held a private viewing of the P1 supercar in Beverly Hills last night where more details about the hypercar were released. The particular car displayed was dressed in volcano orange just as the one showed in Paris last year, but fully functional albeit having the usual dark tint to hide the interior details. Production is expected to commence later this year.
Most details are quite similar to the 12C such as the chassis that utilizes a carbon fiber passenger tub shared with aluminum structures front and rear for crash protection whilst all metal parts are made of titanium alloy. Most notable is the twin-turbocharged 3.8 liter V8 developing 800 horsepower thanks to the F1 style KERS (Kinetic Energy Recovery System) that will provide a strong boost of horsepower.
McLaren Automotive has announced that the P1 will be the world's quickest production vehicle around Nürburgring. It's not aiming to compete with the Porsche 918 Spyder since it's too slow and heavy, but will rather compete with the upcoming Enzo successor, named Ferrari F150. Only 500 units of the P1 will be made and are priced around $1.2 million each.
Expect more information on the P1 supercar as it awaits its official debut at the Geneva Motor show in March.
[Via Autoblog]