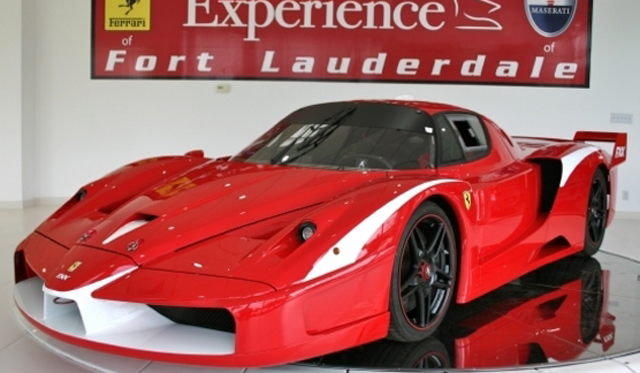 The Ferrari FXX Evoluzione is without the fastest Ferrari ever produced this side of the firm's Formula One cars and even still, the FXX isn't far behind the F1 cars!
Just 30 units of the standard FXX were produced during the cars production run and all were sold to members of Ferrari's Corse Clienti who can only ever drive the FXX on approved racing tracks around the world. Then in 2009, the FXX Evoluzione was introduced which turned the wick up even higher to completely re-define the stock FXX which had gone before it.
The standard FXX produces 789hp from its 6.3-liter V12 engine, but in late 2010, the following FXX received the exclusive $300,000 Evoluzione upgrade and is now for sale at Ferrari-Maserati Fort Lauderdale for a cool $2.69 million.
Since this particular unit was fitted with the Evoluzione upgrade, it hasn't taken part in any of the firm's Corse Clienti events and remains in immaculate condition having only driven 11km. This particular car now produces 860hp at 9,500rpm, features a gearbox which can change gears in just 60ms, can sprint to 100km/h in just 2.5 seconds and hit a theoretical top speed of over 400km/h.